Samsung Galaxy S III official accessories press shots surface
13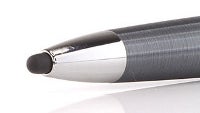 The
Samsung Galaxy S III
has arrived and it is what it is, but one thing that will make it even better is a set of well crafted Samsung-made accessories. Samsung is of course bringing accessories to the market, and now we've got the official press pictures of everything from a C-Pen, a stylus designed for the S III, to the new Flip Cover. We've heard about and seen some of them at the official London S III event, but others we haven't so take a closer look.
First comes the
C-Pen
, a stylus designed to compliment the S III, with the same texture as the body of the handset. The C Pen is different than the S Pen - the latter comes built in the Galaxy S III, while the former is not in anyway attached to the S III, so it can afford to be thicker, and hopefully even more comfortable to hold.
Next comes the brilliant
Galaxy S III holder and battery charger
. It looks a bit weird in the picture, but understanding its function justifies the design. You can position your S III upright and charge the smartphone, and at the same time at the back of the holder there's a separate place for a second battery, so you can simultaneously charge both your SGS III and its secondary battery, if you've picked one. Elegant solution for travelers, and one we certainly welcome.
A Wi-Fi display hub will allow you to stream wirelessly content and then there's the flip cover that adds protection to both the back and front of the Galaxy S III. Check out the image gallery below to see how you can accessorize the new Samsung Android flagship.