Samsung Galaxy S III first benchmarks are out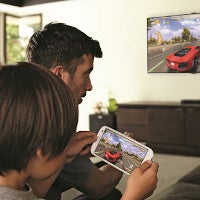 The Samsung Galaxy S III won't truly deserve the Android crown for total geeks like us if it can't prove it in some
benchmark
action. And London's event was the perfect place to run some tests and compare what others have scored. Thus, we could get an idea about some of the mysterious silicon juice Samsung put in the SGS III. What we know so far is that it packs a quad-core 1.4GHz Samsung Exynos chip, 1GB of RAM, and a newer GPU with the promise of 65% better performance.
Here are the real life results and how they compare with other Android phones:
-
Quadrant
(tests overall performance) scores vary around 5,200, just above the HTC One X, and much more than the 3,800 of the Galaxy Note
-
Nenamark
(graphical test) scores around 60fps, again on par with the One X,
-
Vellamo
(web benchmark) score is just below the One X at 2,094, while the HTC phone has 2,350
-
Linpack
scores of around 50 for single-threaded and 100 for multi-thread performance, almost as much as the global One X
Interestingly, the Snapdragon S4-powered dual-core AT&T HTC One X scored better on many occasions.
As a conclusion, one could say that the Galaxy S III performs as an Android flagship device - it doesn't really break the ground with bench results, but doesn't underperform either. And that's good, isn't it?