Samsung Galaxy S III launching in Canada June 20th according to leaked screenshot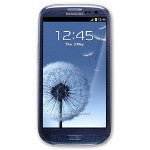 The Samsung Galaxy S III will available on every major Canadian carrier such as Telus,
Virgin Mobile
, WIND, Videotron, Bell, SaskTel, Mobilicity
and Rogers. Reportedly, Samsung is sending over a crew to Canadian retailers and carriers starting May 30th
for intensive training on the device
. We know that the Samsung Galaxy S III is going to
launch overseas at the end of this month, and sometime in June for the States
. We also know that like the U.S. models, the Canadian version will offer 4G LTE connectivity. But when will those up north be able to get their hands on the fastest selling gadget in history?
was able to obtain a
leaked screenshot from an internal computer system
that might just give us the answer. The screenshot shows what might be a newspaper or magazine ad that will soon be viewed by Canadian readers. On the bottom of the ad is a list of some of the major Canadian carriers that will be carrying the phone, and above that, the ad reads "Pre-order Today. Available June 20th". You can't get any clearer than that.
Of course, since this was spotted on a computer screen instead of in a newspaper or magazine, it isn't exactly written in stone. Still, it might behoove those up in Canada to circle the date on their calendar and
keep an eye out for the start of pre-orders
. And for those in the U.S., this date might reveal a time period when we could see the U.S. version of the Samsung Galaxy S III get released.
source:
MobileSyrup