Samsung Galaxy S III ends iPhone 4S's brief reign as UK's most popular phone
55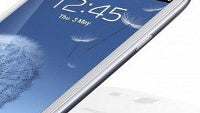 It's been only a couple of days after the launch of the Samsung Galaxy S III, but it's already topped the iPhone 4S as the UK's most popular phone, according to uSwitch's mobile tracker. The iPhone 4S only got to the top of the ranking last month, while in the previous 11 months the Galaxy S II was in the lead.
Samsung just recently released data about 20 million Galaxy S II's sold, so that definitely confirms just how popular the device still is.
The new Galaxy S III climbed to the top quickly amidst hype that we've usually seen reserved for the Apple's iPhone. Now, the top three of UK's best selling phones according to uSwitch includes the SGS III on top, the iPhone 4S as a runner-up, and the Galaxy S II second even 15 months after launch. Here are the top ten UK handsets:
1. Samsung Galaxy S III
2. iPhone 4S
3. Samsung Galaxy S II
4. HTC One X
5. Samsung Galaxy Ace
6. Samsung Galaxy Note
7. iPhone 4S black
8. HTC One S
9. HTC One V
10. Sony Xperia S
"Feeling surprisingly light to carry due to its brushed polycarbonate casing, especially considering the vast 4.8 Super AMOLED screen, the Samsung S III looks set to give the iPhone a serious run for its money,"
Ernest Doku, technology expert at uSwitch, commented.
"What is interesting this month is the arrival of the HTC One series as a major player in the smartphone market alongside Apple and Samsung. The One V's new entry means HTC now has all three One series devices in the top ten. These are fun yet powerful smartphones, concentrating on cutting edge devices at incredibly competitive prices,"
Doku added.
Weirdly, the touted Nokia Lumia phones don't appear in the listing at all. Actually, there isn't a single Windows Phone handset there yet, but this might well change after the launch of Windows Phone 8. Right now, though, Android rules the tracker's charts.