Samsung Galaxy S III Review Q&A: Answers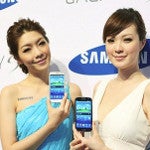 Alright, people, the time has come for us to give you the answers you've been waiting for! When we posted our
Samsung Galaxy S III Review
this week, we gave you the opportunity to ask about things you're interested in. Let's not waste any more time and get right to the point!
1. JDCohen722
Question:
Considering the fact that you've used the HTC One X and reviewed it, and now previewed the S III, is it a smoother experience than the One X? I know they are very very similar in specs besides the different Processors, but is it more lag-free than the One X, or is it the same? Or are they both even lag free? In other words I don't care much for synthetic benchmarks I just want to know in real use which is faster/smoother.
Answer:
Both the Galaxy S III and One X are lag-free when you're simply playing around with the UI. In some apps, like the browser, for example, the One X tends to be somewhat laggy, whereas the Galaxy S III remains perfectly snappy. Other than that, both are capable of delivering exceptional performance when running heavy third-party apps.
2. PackMan
Question:
How much difference does the "NORMAL" mode makes in terms of colour accuracy?
Answer:
There's quite a big difference between the "Standard" (default) mode and "Natural" (normal) mode. Colors become much more natural, as they are no longer oversaturated. Still, they do remain on the colder side. There's also the "Movie" mode, though, which tends to make colors a bit warmer, so it should absolutely be given a try as well.
3. cGmC11
Question:
The Exynos quad-core prossesor isn't compatible with LTE, but is compatible with the future android Jelly Bean OS?
Answer:
Yes, it is compatible. The only question is when is Samsung going to deliver the update for the device.
4. cGmC11
Question:
How useful & benefits is the aforementioned ceramic coating vs the plastiqui surface on the GSIII?
Answer:
There's hardly any practical benefit in having a ceramic coating. The benefit in having it is in the aesthetics of the phone. When the phone is made with such heavier kind of materials, it creates the impression of a more valuable product, which is something that you'd expect from a top-end smartphone.
5. Bluesky02
Question:
How is your ICS experience compared to Gingerbread on SG2?
Do you feel a vast change, and a true user experience?
Answer:
In our opinion, ICS feels much better compared to Gingerbread. It's much smoother, and the core applications of the operating system are significantly improved. Overall, yeah, the user experience is definitely better with ICS.
6.
Wildmanfan
Question:
My 2 questions are:

1. Which carriers in the U.S will have this phone?

2. If you had to get this phone or the Samsung Galaxy Note, which would you recommend buyers and why?
Answer: So far, there hasn't been an official statement regarding the U.S. carrier versions of the Galaxy S III. However, it's currently expected that all four major carriers will have a version of the device. Whether one should buy the Galaxy S III or Galaxy Note depends entirely on their needs and usage habits. As far as we are concerned, only in case you are watching lots and lots of movies on your cell phone, then the Note would be the more suitable option. In any other case, we'd recommend getting the Galaxy S III.

7
.
BravoTeam127
Question:
Will the dual core snapdragon be able to perform with all the features just as the quad core??? Should I get this phone or just get the HTC One S?
Answer: There's no reason to believe that the dual-core Snapdragon solution in the upcoming U.S. versions of the Galaxy S III won't be able to perform well with all the features of the handset. We expect to see quite similar performance.

8.sipha

Question:
for someone using a galaxy note/nexus, would you realy say its a worth while upgrade(to the galaxy s3)??
Answer: The Galaxy S III isn't really a radical improvement over the Galaxy Nexus (and even the Note). If you aren't in love with some of the new features like S Voice, for example, there's not too much reason to upgrade.

9. a1000smiles4u

Question:
only one question to Ray S.
Given a condition that You have to buy and use only one handset for next 2 years
what would u chose
Samsung Galaxy 3 or htc One x
Answer: Definitely the Samsung Galaxy S III.

10. APPLE_R0YALLY

Question:
RAY!
We say™ can you overclock this A9 4412 to what amount, 1.8 or 2.0 CPU......
Answer: We're not really sure to what maximum frequencies you can overclock the Exynos 4412 CPU. It probably depends on the software tools you have at your disposal. Anyway, we see no use in overclocking it.

11. samfrancisco

Question:
Can you resize a pop-up video?
Answer: We tried but were unable to find a way to resize the pop-up video.

12. dhouseng

Question:
How is the color temperature of the screen in Galaxy S3? The biggest problem I have with my Galaxy S2 is that the color temperature is cool, which resulted a bluish tinted screen.
Answer: There's a slight improvement in the screen of the GS III in this respect, but it's still far from what you'd call "natural". However, one of the screen modes called "Movie" does tweak the colors to make them look a bit warmer, although this is also available on the ICS-running Galaxy S II.

13. khamboo

Question:
is there video stabilizer ? and how about audio quality (costom equalizer ) on headphone ?
Answer: Yes, there is image stabilization in video recording mode, and you can set a custom EQ in the music player.