Samsung Galaxy S II will be launched to the stratosphere on July 15th, just to prove a point
14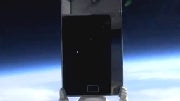 Now we don't have to be told that the
Samsung Galaxy S II
is already at stratospheric levels as far as Android handsets go, but for those who are not aware, Samsung decided to literally send the gizmo 20 miles high on July 15th, just to prove a point.
T
he Samsung Galaxy S II will be
tied to a space balloon and sent to the stratosphere
as part of the promotional festivities for the handset in Japan, proving once again that Samsung is all-out marketing its finest example of cell phone making. Our own editor Basil Kronfli was literally hanging off a cliff while trying to unbox the dual-core goodness as part of an
Extreme Unboxing event
in the Snowdonia mountain range in Wales, so we know extreme marketing when we see it.
This, however, takes the Galaxy S II promotion to a whole new level, many miles above ground, and it will be broadcasted live on Ustream, plus it will be showing tweets and messages live. Google
tried something similar with the Nexus S
, excusing itself it was for scientific purposes instead of pure unaltered fun, so we might be having some pictures from the Galaxy S II, while floating 20 miles above ground next month as well.
via
SamsungHub