Google Nexus S flight into space detailed further on video
1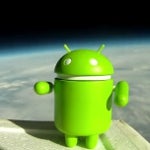 Last week the crazy crew over at Mountain View took seven shiny new
Google Nexus S
phones, and launched them for a spin around Mother Earth, literally. Now they've uploaded another detailed video about the whole shebang.
The seven foam boxes with extra batteries, cameras, special GPS equipment and little green robot pilots, were attached to weather balloons, and launched up and away. Googlers had the location apps like Maps and Latitude on, and they even wrote some custom-made software to examine the behavior of the plethora of sensors inside the Google Nexus S. The findings?
"
In tracking the sensors on each of the phones, we observed that the GPS in Nexus S could function up to altitudes of about 60,000 ft. and would actually start working again on the balloon's descent. We also saw that Nexus S could withstand some pretty harsh temperatures (as low as -50˚C). Some interesting data we collected:


Maximum Speed: 139 mph
Maximum Altitude: 107,375 ft (over 20 miles, over 30 km)
Maximum Ascent Rate: 5.44 m/s
Average Flight Duration: 2 hours, 40 minutes
Average Descent Time: 34 minutes."
All of the phones were successfully recovered afterwards, but we wouldn't be buying them even on a shelf titled "clearance". The folks over at Google have been filming the brouhaha for our viewing pleasure, enjoy the video below.
source:
Google