Samsung Galaxy S 4 with Snapdragon 600 or Exynos 5 Octa: here is what market gets what version
67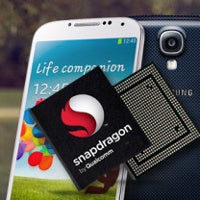 The
Samsung Galaxy S 4
might have not surprised us with a new design or much of a revolution elsewhere, but it is a solid evolution over last year's Galaxy S flagship.
What you might still wonder, though, is which version of the device is coming to your country. We already know that in the United States and the United Kingdom, the
Galaxy S 4 will come with Qualcomm's Snapdragon 600 chip
. Most of Europe will also get a Snapdragon 600 version of the S 4, but for Asia the device will ship mostly in its Exynos 5 Octa version.
Now, the
Snapdragon 600
comes with the new Krait 300 processor clocked at 1.9GHz, while the
Exynos 5 Octa
has the clock set at 1.6GHz.
So with that in mind, take a look at the different model numbers and what they signify. There is no information about Latin America yet.
GT-I**** = Not decided yet.
GT-I9500 = Exynos
GT-I9505 = Snapdragon
GT-I9500 / GT-I9505 = Samsung to bring both versions
Africa

GT-I9500 – Afghanistan
GT-I9500 – Algeria
GT-I9500 – Egypt
GT-I9500 – Kenya
GT-I9500 – Lybia
GT-I9500 – Marocco
GT-I9500 – Nigeria

Asia / Middle East
GT-I9500 – Bangladesh
GT-I9500 – China
GT-I9500 / GT-I9505 – Hong Kong
GT-I9500 – India
GT-I9500 – Indonesia
GT-I9500 – Iran
GT-I9500 – Iraq
GT-I**** – Israel
GT-I9500 – Kazakhstan
GT-I9500 / GT-I9505 – Korea
GT-I9500 / GT-I9505 – Malaysia
GT-I9500 – Nepal
GT-I9500 – Pakistan
GT-I9500 / GT-I9505 – Philippines
GT-I9500 – Russia
GT-I9500 / GT-I9505 – Saudi Arabia
GT-I9505 – Singapore
GT-I9500 – Sri Lanka
GT-I9500 – Taiwan
GT-I9500 – Thailand
GT-I9500 – Turkey
GT-I9500 / GT-I9505 – United Arab Emirates
GT-I9500 – Uzbekistan
GT-I9500 – Vietnam
Australia

GT-I9505 – Australia
Europe

GT-I9505 – Austria
GT-I9505 – Baltic
GT-I9505 – Belgium / Luxemburg
GT-I9505 – Bosnia and Herzegovina
GT-I9505 – Bulgaria
GT-I**** – Croatia
GT-I9505 – Cyprus
GT-I9505 – Czech Republic
GT-I9500 / GT-I9505 – France
GT-I9500 / GT-I9505 – Germany
GT-I9505 – Greece
GT-I9500 / GT-I9505 – Italy
GT-I9505 – Macedonia
GT-I9505 - Nordic Countries
GT-I9500 / GT-I9505 – Poland
GT-I9505 – Romania
GT-I9500 – Russia
GT-I9505 – Portugal
GT-I**** – Serbia
GT-I9505 – Slovakia
GT-I9505 – Slovenia
GT-I9505 – Spain
GT-I9505 – Switzerland
GT-I9505 – The Netherlands
GT-I9500 / GT-I9505 – United Kingdom
GT-I9500 – Ukraine