Samsung Galaxy S 4 vs Samsung Galaxy S III: first look
82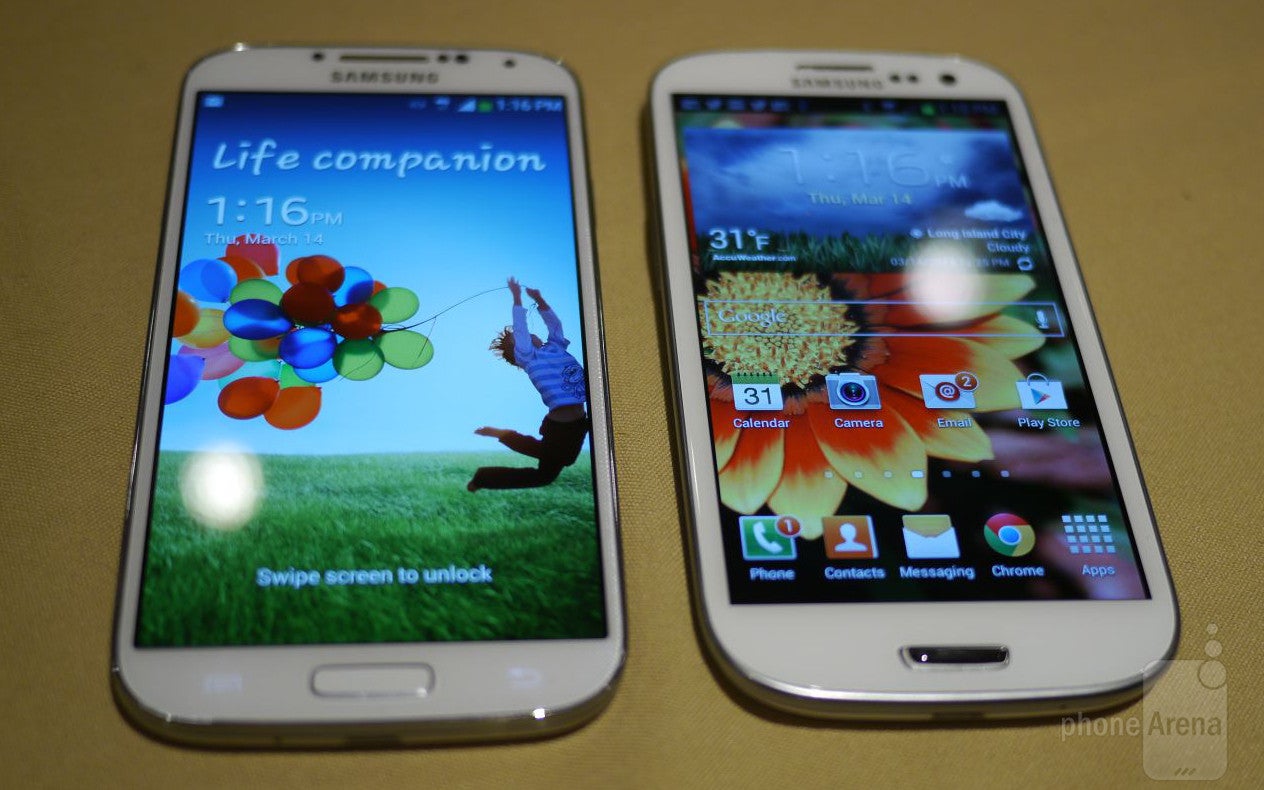 Highly regarded as force in the industry to this day, even despite the fact that it's nearing the mark of being around for a year, the Samsung Galaxy S III continues to be a fledging device in this day and age. In the face of some newer devices, it shouldn't surprise anyone that it's still being thrown into the midst of conversations. Now that the Samsung Galaxy S IV is officially announced, many of you are wondering how the master compares to the newcomer in the space. It's old versus new, father versus son, and predecessor versus successor. So how do they compare head on? Let's take a quick peak shall we?
Design
From a far distance, you'd be hard pressed to adequately distinguish the two smartphones from one another, seeing that the Galaxy S IV is flaunting very similar design cues to its predecessor. On one hand, some of you are going to be underwhelmed by the updated design of the handset, just because it doesn't greatly improve upon the styling established by the Galaxy S III, but more importantly, we're humbled to find that its size has been maintained. We know that the Galaxy S III is packing a 4.8-inch display, but impressively enough, the Galaxy S IV goes further with a 5-incher – while still maintaining the same dimensions as its predecessor. However, the newer model is both thinner and lighter, which is an astounding feat on its own. As for the other noticeable changes, the Galaxy S IV's design is complemented by its new brushed metallic bezel, which is a nice addition, but doesn't do much to greatly differentiate the styling.
Display
In this particular category, it's a no-brainer that we're digging the newer display of the Galaxy S III. Ever slightly moving in size to a 5-inch Full HD Super AMOLED display, it's remarkable that Sammy is able to chisel off more of the display's surrounding bezel – to keep its overall size similar to the Galaxy S III. Not only does it sport a higher resolution (1920 x 1080), but its sheer luminance is more prolific thanks to its sharper details and more iridescent color reproduction. Honestly, this is the incremental upgrade we'd expect to see in a successive device.
Still, Sammy has included one new magic trick to give people plenty to talk about with this new display – Floating touch technology. Naturally, this new feature brings forth yet another new level of functionality to the Galaxy S IV's display, as it mimics many of the stuff we've seen already with the Galaxy Note handset, but it simply relies on our fingers instead. Overall, it's bigger, sharper, punchier in tone, and better looking than its predecessor – all expected improvement of course, but the inclusion of Floating Touch Technology is without question the coolest part about it.
Software
On the surface, there isn't a significant change in how Samsung presents its updated TouchWiz Nature UX experience on the Galaxy S IV, since it looks and feels mostly untouched. Just as before, personalization is in full abundance with the two UIs, as there are plenty of wallpapers, widgets, and icons to select from its vast stable. Diving deeper to the experience, we adore how the Korean based manufacturer has been able to move the experience towards the right direction.
Last year when the Galaxy S III first came to light, we were unequivocally blown away by how the new experience separated itself from everyone else. Moving things right along on its merry path, Samsung has is again redefining the way we're interacting with our smartphones, and quite frankly, this is the area where we see the most progress in the Samsung Galaxy S IV. For starters, we appreciate the Air View functions that are available to us, but even better, it's the cool new Air Gestures in play with the platform that separates it greatly. In addition, Samsung has been able to center the experience around our daily lives, which is evident in the exorbitant amount of new camera modes available to the handset, as well as the Life Care hub that tracks and monitors our health lifestyle. Simply, the new experience isn't just helping us to navigate around the platform, but rather, it has a comprehensive package that centers around our lifestyle.
Expectations
Let's get the obvious out of the way. The design of the Galaxy S IV isn't anything profoundly new, but we're still most appreciative that Samsung has been able to increase the handset's display size without compromising on size. Above all, it's the updated TouchWiz Nature UX experience that makes the Galaxy S IV inviting on so many levels. Throw in the fact that it gets all the usual hardware upgrades, and some new additions too (like it built-in IR blaster), existing Galaxy S III owners are no doubt going to be tempted to pick up this new flagship when it launches. Ultimately, time will tell how much more the Galaxy S IV is going to be able to separate itself from its prestigious and highly popular close family member.