Samsung Galaxy S 4 and HTC One coming to Ting
1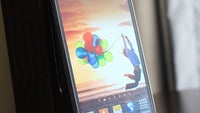 You've heard of Ting, haven't you? It is a virtual network operator that offers contract-free mobile service while riding on the Sprint cellular network. The MVNO has been around for over a year now and its phone lineup has been growing steadily over time.
But while most of the smartphones currently offered by Ting aren't likely to grab a geek's attention, there's a few new upcoming devices that will surely grab anyone's interest. Among them is no other than the
Samsung Galaxy S 4
, which is
going to be announced officially
in a few hours. What's more is that the highly-anticipated smartphone will launch on Ting shortly after the big boys get it. No solid launch date has been given, but a Samsung Galaxy S 4 pre-order page should go live in six to eight weeks from today. The smartphone will start shipping a couple of weeks after that. As far as pricing is concerned, the phone will be available through Ting with no subsidy, meaning that it won't come cheap.
Now, as we mentioned above, Ting uses the Sprint network to provide calls, texts, and data service to its customers. The MVNO even allows
some of the carrier's phones to be activated
for use with its contract-free services. Given that information we have a good enough reason to believe that Sprint will be offering the Samsung Galaxy S 4. Besides, the smartphone is likely to be among the hottest devices of 2013, so there's no reason to believe that a major carrier would miss the chance of offering it.
Another pretty awesome smartphone that Ting will be getting soon is the
HTC One
. Pre-orders for the device are scheduled to begin in 30 days and the orders will start shipping a few weeks after. Hopefully those
HTC One delays
won't interfere with Ting's plans.
Oh, and before we forget, the Samsung Galaxy S III mini will be offered as well. Its launch date via Ting is estimated to be roughly around the time when the Samsung Galaxy S 4 is going to be released. Last but not least, there's an LTE-capable device of some kind coming as well, although what make and model it is has not been disclosed yet. We'll know more on the matter soon as that mysterious LTE device will come in about six weeks.