Watch the Samsung Galaxy S IV livestreaming here!
99+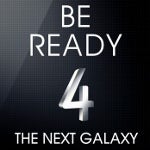 The next big thing by Samsung is almost here! Just a few hours to go and we'll all be enjoying the introduction of what's believed to be one of the hottest smartphones of 2013.

We're posting the livestream of the unveiling event taking place at NYC right here. Just hit the Play button and wait until the show starts! Of course, don't get too carried away with it, because we'll have tons of other Galaxy S IV coverage on the site for you!