Samsung Galaxy S 2 specs leak again - Sammy's been pondering between 4.3" and 4.5" displays
13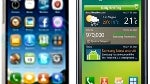 OK, folks, imagine the Samsung Infuse 4G (our hands-on
here
)? What do we have? A 4.5" Super AMOLED Plus in a very thin package, which still manages to cram an LED flash for the 8MP camera, and a 1.2GHz processor, capable of Full HD 1080p video recording and playback.
Now what does it have in common with the second generation of the acclaimed
Samsung Galaxy S
? Just that they might be very, very similar. According to a Samfirmware tipster, Sammy has been testing two variances of the Samsung Galaxy S 2 - one with a
4.3"
, and one with a
4.5"
Super AMOLED screens.
It makes sense to stand out with a 4.5-incher, when everyone maxes out at 4.3, and, as attested by our preview of the
Sony Ericsson Xperia arc
, the big screen is not unwieldy when the handset is thin enough, and the Galaxy S 2 is
rumored
to be very, very thin.
The other interesting part is that now a dual-core
Orion chipset
is all but confirmed, whereas there were doubts what might end up inside, with Samsung
buying Tegra 2 chipsets
and all. Sammy has developed two clock versions - 1GHz and 1.2 GHz. We guess if they end up with the 4.5-incher version on a 1.2GHz Orion chipset, it might look a lot like the Infuse 4G, just more powerful. By the way, the
render
in the first leak we had about a Samsung Galaxy S sequel last summer looks a lot like the Infuse 4G, especially under the screen.
It seems that this shady leak in November that was chewing over both a 4.3" and 4.5" screens, might have been the one on the spot, though, down to the 1.2GHz chipset, but it also listed 16GB of memory. The first report for a Galaxy S sequel way back last July mentioned aluminum casing, and an $800 unsubsidized price, so what we have on this render below - metallic looking sides and camera area, might turn out aluminum. Hopefully the price has gone south since, though.
As for the software part, we can expect Samsung's "Personal Cloud Computing", which probably is akin to what
HTCSense.com
provides for remote control and management of your phone. Google's C2DM for push notifications and messages within applications will also be implemented in some way, according to leaks prior, as well as we should have Readers Hub, an e-book app, as standard on the Samsung Galaxy S 2.
The rest of the specs are
what we've heard
so far - Android 2.3 Gingerbread, front-facing camera, and NFC chip on board. What says you, excited about the possibility of a dual-core Orion chipset in a super thin 4.5" phone with Super AMOLED Plus screen?
The exact specs Samsung decided on will probably be known as soon as
this Sunday
, and we will have people at the MWC to corral all the info they can find about it.
source:
Samfirmware
via
PPCGeeks