Samsung Galaxy Note screen controversy cleared: from finger reach to the PenTile display
26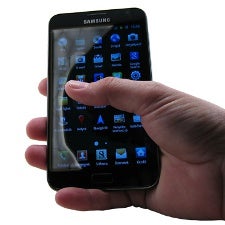 The
Samsung Galaxy Note
with its humongous 5.3-inch 720p display has added fuel to the fiery debate about the ideal screen size. What's too big and what's too small for today's realities? This question doesn't really have a single true answer - with differently sized hands but most importantly different needs, some people tend to like smaller screens, while others prefer to get it as big as possible.
The Galaxy Note challenged
"possible,"
inspiring various experiments:
will it fit in a jeans pocket? What about a jacket pocket? And what if you wear tight fit jeans?
We already know the answers to those, but there was a second question posed right after the first one: can the human finger stretch from one edge of the screen to the other? As some have suggested that 3.5-inch has been proved to be the perfect size for finger operation, the image below proves that most of the area of the display is still accessable even on the 5.3-inch Galaxy Note.
There's one more issue with the screen - it claims to sport 720x1280 pixel resolution, but it uses the PenTile matrix. We've already looked at the level of detail covered and concluded that fears about a huge
decrease in quality in PenTile displays are overblown
. Now, however, we have the chance to zoom in even further and get a microscope's view of the tiniest of details. For that click either the Galaxy S or the Galaxy S II to get a zoomed in comparison of the screens. All of those neat little tests confirm that while the Galaxy Note might be too big to go mainstream, it does have its allure for some users. Are you among them?