Samsung Galaxy Note appears on a T-Mobile poster, launch seems imminent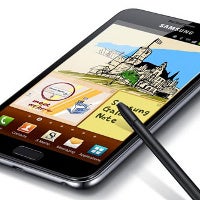 If all those leaked pictures and rumors weren't enough of an evidence for you that T-Mobile is about to launch the
Samsung Galaxy Note
, now there is a poster with the handset appearing on it coming straight from the carrier. The gigantic
5.3
-inch Galaxy Note is likely to make its official appearance on the carrier in mere days, but while that might seem soon, we can't help but notice that nearly 9 months passed since the Note's official global roll out.
And if you trust the rumors, we're just over a month away from Samsung unveiling the second-generation of the handset with an even larger screen, virtually the same dimensions, a quad-core chip and a better camera.
It's true though that the phone is great even now if you get used to its large screen (and don't wear tight fit jeans). It's got a high-res display with resolution of 800x1280 pixels, a dual-core processor and one of the better cameras with impressive low light performance. Of course, ti also features the S Pen stylus, tucked neatly inside the body, so you can draw right on the big screen.
T-Mobile is definitely getting it soon, but in the meantime you still have a couple of days to make up your mind - are you getting the first-gen Note or waiting and hoping the second one comes out sooner rather than later?
source:
TMoNews