Samsung Galaxy Note 8 vs OnePlus 5: first look
8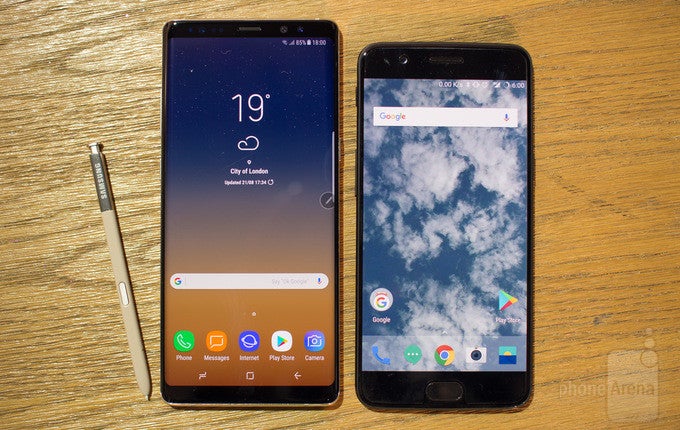 The
Galaxy Note 8
is Samsung's most feature-packed smartphone to date, but to refer to it as the brand's flagship would be incorrect. That title still goes to the
Galaxy S8
, which is built from the ground up to capture the attention of the mainstream audience. Meanwhile, the Note 8 remains an enthusiast-grade phone, even though it is superior to the S8 in a number of ways. You know what other phone is clearly made for enthusiasts? The
OnePlus 5
, which offers killer specs at a reasonable price. Let's see how it compares against Samsung's latest and greatest.
Design and display
These two beasts are very different – strikingly so, we'd say, especially when it comes to the way they're put together. With its metal-and-glass construction, with its curvy display filling almost all of its front, the Galaxy Note 8 looks and feels like a phone from the future next to the the simpler, traditionally shaped OnePlus 5. On top of that, Samsung's phablet is water-resistant, unlike OnePlus's latest high-end.
We have to admit that the Galaxy Note 8 is noticeably heavier and less pocket-friendly, as we found out during the brief time we spent with it. But it makes up for that with its significantly larger display, giving you lots more room to work and play with. Plus, it looks gorgeous! On the flipside, there's a lot more glass on the Galaxy Note 8 that could break. And there's a few more things the OnePlus 5 has going for it: the fingerprint reader is at a much more convenient place – below the display, and its slider switch for toggling between loud and silent modes is pretty neat.
Software, interface and features
One of the Note 8's highlights is the S Pen – its advanced stylus that lets you take down notes, write comments and annotations, or maybe even unleash your inner Bob Ross, depending on what you feel like. We've said it before that not everyone needs a stylus for their phone, hence the absence of one on the OnePlus 5 isn't a big deal, but still, the S Pen has its fans and it counts as an advantage in our book.
S Pen aside, the Galaxy Note 8 and OnePlus 5 approach software in their own ways. Samsung's high-end is loaded to the brim with features – some more worthy of a mention than others, but all nice having. For instance, there's the always-on display and the support for HDR video content. There's the iris scanner and face recognition feature as alternatives to the awkwardly placed fingerprint reader. Also, there's the vastly superior side-by-side multitasking experience, aided by the larger, taller screen fitting more content. Plus, the Note 8 is part of the Galaxy ecosystem, along with accessories like the Gear VR headset and the DeX docking station.
In contrast, the OnePlus 5 is a simpler phone, but we don't mean to say that in a negative way. The bells and whistles are few in number. The interface isn't the prettiest and needs some polishing, but it does offer some cool features that power users could like: the highly customizable navigation buttons or the option to add widgets to a vertical side panel called Shelf.
Hardware
While the Samsung Galaxy Note 8 is bigger and prettier than the OnePlus 5, it isn't more powerful at a hardware level. Both handsets are in the same ballpark, as they come with equally powerful yet energy-efficient processors and ample amounts of RAM. The only thing that could make one of these two phones feel slower than the other would be the software running on it. Samsung's skin isn't known for being very light.
We should also mention that both phones come with at least 64GB of storage. Only the Note 8 has a microSD card expansion slot, while the OnePlus 5 trades that for a secondary SIM card tray.
Battery capacity stands at 3300mAh for both phones, with fast charging support in place. Actual battery performance is likely to differ, however, and since it has the larger screen, chances are it might not score as well on our battery benchmark. We hope to find out soon. By the way, only the Note 8 will give you the convenience of
wireless charging
, should you demand it.
Camera
Dual cameras adorn the backs of both phones and both setups work in the same fashion. One is a regular camera fit for any situation, while the other is a secondary shooter providing some optical zoom and enabling background blur (bokeh) to be applied behind the subject in the frame. But on a technical side, the Note 8 is a few steps ahead. Not only does its secondary camera deliver greater optical zoom (2X vs 1.6X for the OnePlus 5), but it also has optical image stabilization for even clearer shots. The OnePlus 5 lacks OIS on any camera, while Samsung put it even on its front-facing shooter.
Now, we don't have any photo samples to provide at this time, but since the Note 8's main cam is identical to that on the Galaxy S8, we've put a few samples for you to check out and compare against some out of the OnePlus 5.
Pricing and expectations
We may have spent no more than a couple of hours with the Galaxy Note 8, but it feels safe to say that it is superior to the OnePlus 5 in a number of ways. But is it twice as good? Well, we're not quite sure about that. If you go and get yourself a Samsung Galaxy Note 8 once pre-orders begin, you'll be spending between $930 and $960 in total, depending on your carrier of choice. The OnePlus 5 starts at $480, which makes it twice as cheap – and quite possibly the better deal overall. But if you don't like compromises, if you demand the very best, then the Note 8 is shaping up as the phone to pick. Expect our full Note 8 review soon and be sure to browse through all of our Note 8 coverage.
Also read: