Samsung Galaxy Note 7 vs Apple iPhone 7 / 7 Plus: preliminary specs comparison
79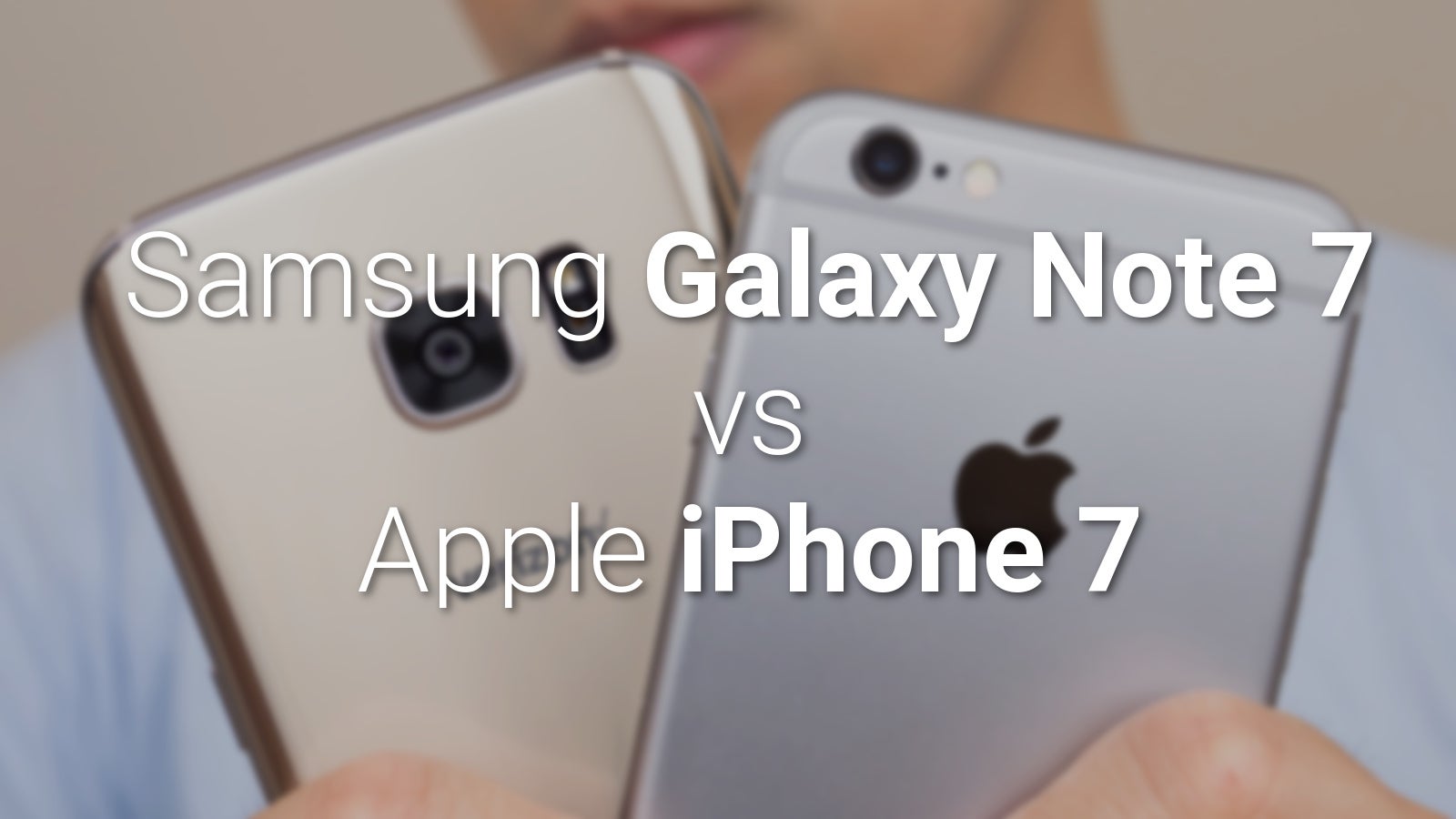 It's now official: the Samsung Galaxy Note 7 (yes, Samsung skips the '6'th generation and goes straight to '7' to match is Galaxy S line) will get officially unveiled on August 2nd.
Make no mistake: Samsung is moving the announcement of the Galaxy Note 7 a month earlier than usual to gain a competitive advantage over Apple's iPhone 7 and iPhone 7 Plus, two phones that usually take most of the tech media attention in September.
However, a month before the unveiling of the Galaxy Note 7 and two months before Apple shows us its new iPhones, we already know a lot about their specs, features, design and performance. It's time to take a look at all these rumors and paint an early picture of what to expect of the biggest phone battle of late 2016: the Galaxy Note 7 vs the Apple iPhone 7 Plus.
Design: if it ain't broke, don't fix it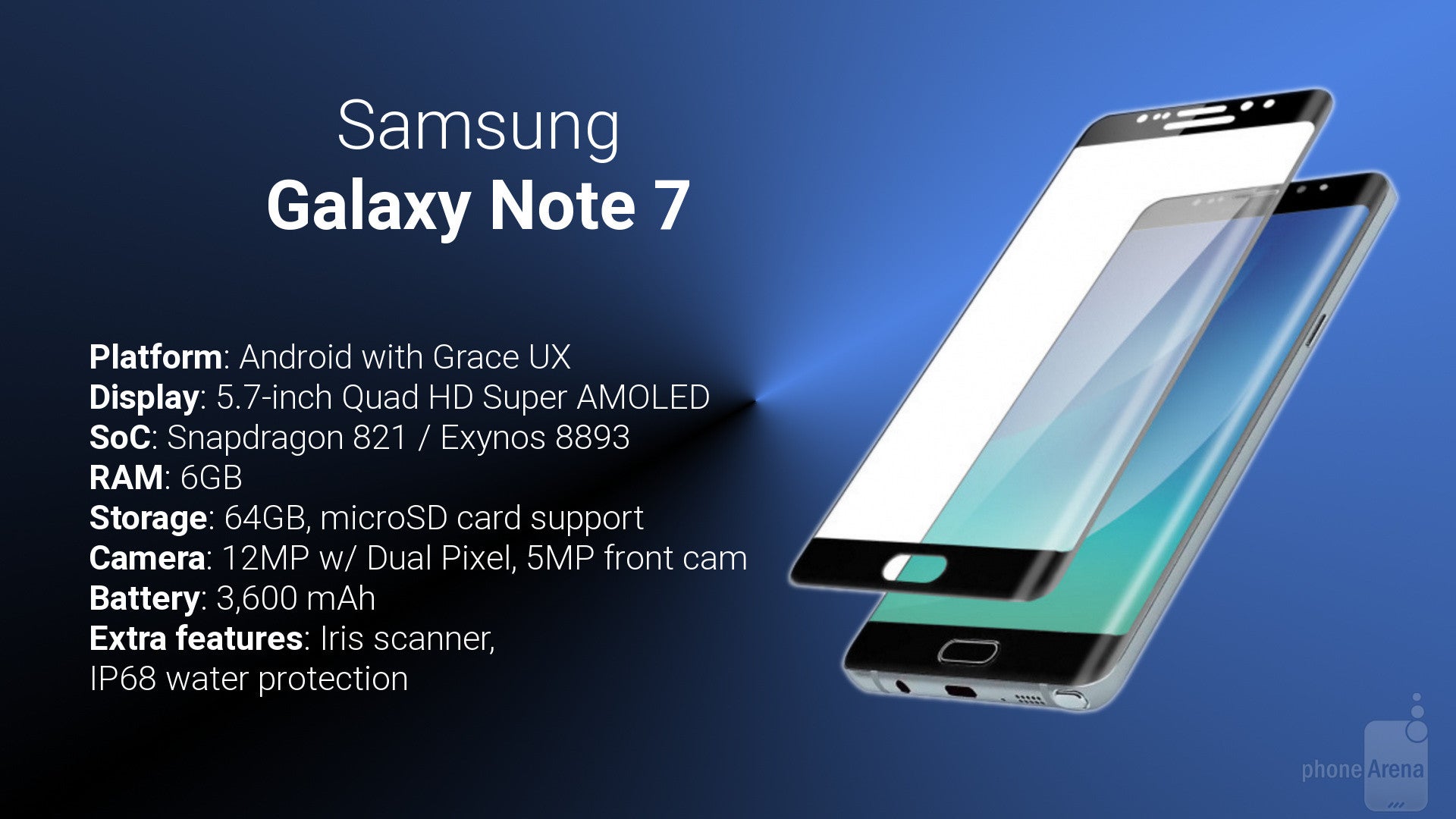 If it's not broken, don't fix it. That seems to be the mantra of all successful companies and products. In fact, big changes to popular products often corrupt their status with users. That's why it's no surprise that the Galaxy Note 7 keeps the familiar design that it started with the Galaxy S6 nearly a year and a half ago.
Apple is also not bringing any major changes to the design it launched with the iPhone 6: it's largely the same thin metal phone with rounded edges. There are some minor alterations, though: the antenna bands are more discreet and the camera module has a different design. This is not that big redesign that Apple traditionally unveils every two years or so. In fact, the latest rumors even say that the company will reflect this in the name of the phone: it could turn out to be an Apple iPhone 6SE rather than iPhone 7 altogether.
Performance: Apple A10 vs Snapdragon 821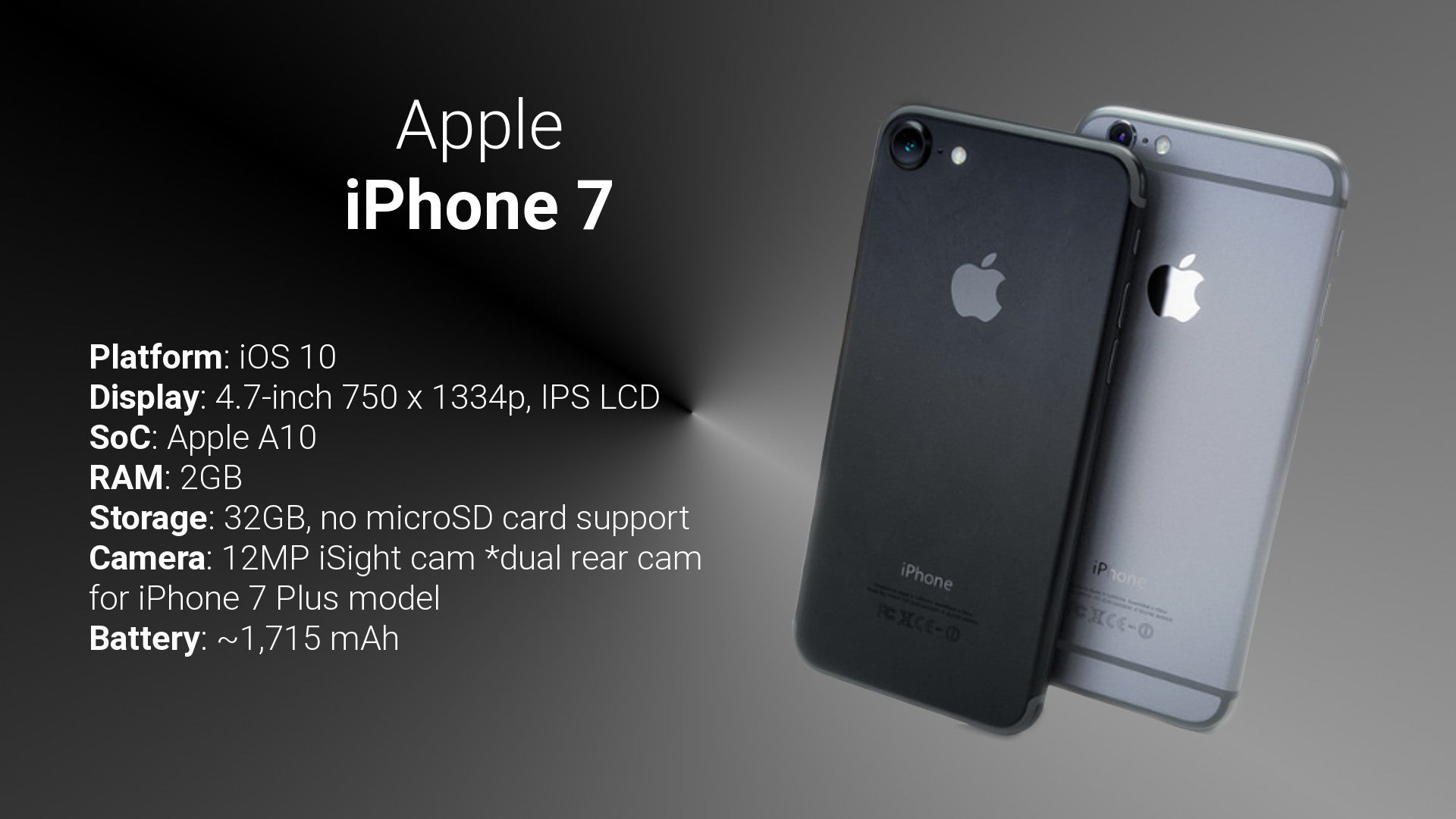 While there are no radical redesigns in outwards appearance, the Note 7 and iPhone 7 family are expected to bring heaps of improvements under the hood. The Galaxy Note 7 is expected to run on the Snapdragon 821 in the United States, while in all other places, Samsung is likely to use its own Exynos 8893 system chip. We saw the same split of chips in the S7 series, where various tests confirmed that the Exynos version performed a bit better and lasted a bit longer.
The iPhone 7, on the other hand, should debut the new Apple A10 system chip. Developed in-house by Apple, the A series of chips have long held the leading positions when it came to single-core performance with the large footprint of the individual cores. Recently, however, we have seen the new Kryo core in the Snapdragon 820, as well as the Exynos CPU cores catch up, so we're curious to see whether Apple will be able to pull ahead this year.
It's also likely way too early for 10nm chips to arrive on devices: those are expected next year, and no new manufacturing process usually results in more modest performance gains.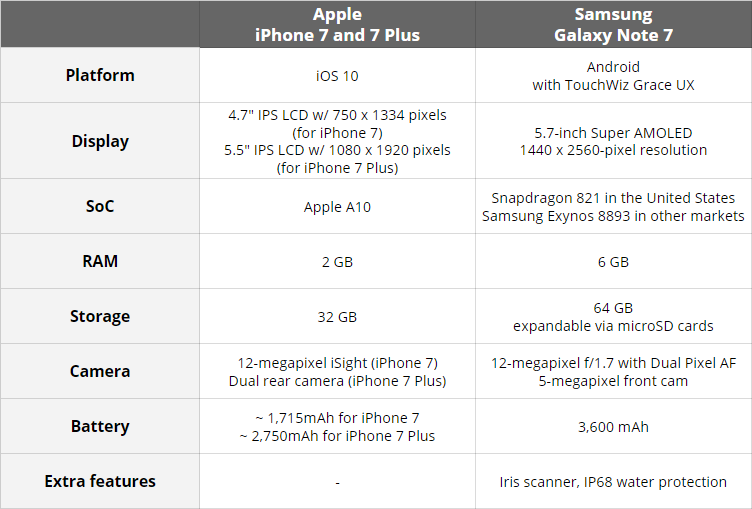 Interface: mature design, evolving
The Note 7 and iPhone 7 family will both come with familiar, but improved and slightly polished interfaces. In the Note 7, we will see the debut of a new version of TouchWiz, unofficially referred to as Grace UX: its main highlight is simpler icons and a redesigned notification dropdown, where you no longer have a horizontally scrolling list of toggles, but a nice full panel.
Apple's iPhone 7 family, on its part, is set to be the launch platform for iOS 10: one of the bigger iOS remakes recently. While icons on iOS 10 remain mostly unchanged, Apple has changed some core fundamentals: you no longer unlock iOS 10-based iPhones with a swipe (you have to tap on the homescreen to go to the home screen), and lockscreen widgets take a more prominent place on your lockscreen and a separate home screen panel. Also, there is a new neat quick-start camera shortcut: rather than swiping up on the tiny camera icon from the lock screen, you now swipe left from the lockscreen to go directly in the camera.
Camera: end to the megapixel race
After what seemed like an endless megapixel race, it seems that more and more consumers these days understand that more pixels don't necessarily mean better quality. The Samsung Galaxy Note 7 and Apple iPhone 7 neither will come with the most pixel-dense sensors out there, but still expectations are that they will continue to be seen as two of the very best camera phones out there.
Both are expected to have 12-megapixel cameras. Samsung upped the ante with its Dual Pixel auto-focus technology that made easily made the phone the fastest camera out there: fastest to start and fastest to focus, while Apple still uses the common phase-detection focusing tech, which is slower. However, with the iPhone 7 Plus model, Apple is expected to introduce something different: a dual-camera setup that should allow you to control the depth of the background (for the so called 'bokeh' effect), and add a ton of interesting computational photography options.
Battery: will we see Quick Charging on the iPhone?
Rumors vary on the Samsung Galaxy Note 7 battery size, but expectations are that it will be somewhere between 3,600mAh and 4,000mAh. The iPhone 7 and iPhone 7 Plus, on the other hand, are likely to have batteries of a similar size with their predecessors: 1,715mAh on the 6s and 2,750mAh on the 6s Plus.
With both Samsung and Apple having excellent records with battery life, we expect the Galaxy Note 7 and new iPhones to easily last a full day, even for heavy users.
Another very important aspect of battery life is recharge speeds: Apple is way behind here, and while there have not been any rumors, we are still hopeful that the new iPhone 7 family implements some form of quick charging. It currently takes more than two hours to fully charge an iPhone from 0% to a 100%, while the Samsung Galaxy S7 takes just around an hour and fifteen minutes. That's especially important for people who need a quick, 30-minute charge-up during lunch time: such battery pit stop could result in a nice juice-up on Samsungs, while for iPhones it will only bring a modest relief.
Extras: iris scanning, USB-C
When it comes to introducing new technology, Samsung is clearly first to take initiative. The Note 7 will be no exception: it is set to become the first mass Android phone to come with an iris scanner up front: just look at a new camera on the front of the device, and it will scan your iris and unlock your phone once it recognizes that it's you. This new technology has quite a long list of limitations: it does not work at all distances (you need to have your phone at an arm's length, but not too far away), it does not work with all eyewear, and might not be as fast and as efficient with some eye types. Nonetheless, it's a neat option when used as a secondary unlock mechanism in addition to fingerprint scanning.
The Note 7 will also be the first top-end Samsung phone with a USB-C port for charging and syncing. USB-C is reversible and easier to use, so that's a welcome change.
Price, Release date and Expectations
Samsung is rushing to bring its Galaxy Note 7 before Apple this year: the company has officially announced a major event in New York for August 2nd, and expectations are that the Note 7 release date will also be on the same date. Apple, on the other hand, is expected to first hold an official announcement of its new iPhones on September 6th or 7th, and then officially release them on September 16th.
As to the price, the Galaxy Note 7 price is likely to stand at $800 for an unlocked phone, while the new iPhone 7 and iPhone 7 Plus are expected to have the same pricing as all new iPhones: $650 for the base iPhone 7 / 6SE model and $750 for the base model of the iPhone 7 Plus / 6SE Plus.
Apple is also likely to offer versions with more storage for both phones, and each upper tier usually comes with a $100 price premium, while Samsung will likely have one model available en masse (either a 32GB or 64GB version) with microSD card expansion slot.
All in all, while there aren't any major changes, the Note 7 and iPhone 7 series are expected to bring a number of under-the-hood improvements and knowing both companies, a few surprises as well. We're excited.