Samsung Galaxy Note 5 now ships with warning label regarding the use of S Pen
99+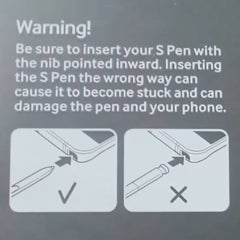 Earlier this year, not long after Samsung released the
Galaxy Note 5
, it's been discovered that the handset's
new S Pen stylus had an unusual flaw
: inserting it the wrong way can damage both the pen, and the smartphone.
While Samsung did include a warning about this
in the Galaxy Note 5's User Manual
, we all know that reading user manuals in their entirety is not something that too many people do. With that in mind, Samsung is now shipping Galaxy Note 5 units with warning labels that read: "Be sure to insert your S Pen with the nib pointed inward. Inserting the S Pen the wrong way can cause it to become stuck and can damage the pen and your phone."
The warning labels should be visible when you get a Galaxy Note 5 out of its retail box for the first time - as we can see in the video embedded below. It's pretty clear that Samsung acknowledges that inserting the S Pen the wrong way is something users should really avoid. Hopefully, now that there's a visible warning label on the device, everyone will avoid doing it.
source:
YouTube
via
SamMobile