Samsung Galaxy Note 5 and S6 edge+ on AT&T finally get Android 6.0 Marshmallow
54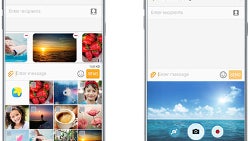 AT&T is finally rolling out the Android 6.0 Marshmallow update for the
Samsung Galaxy Note 5
and its curved-edge sibling, the
Samsung Galaxy S6 edge+
.
With
Android N
right around the corner, the fact that Galaxy Note 5 and Galaxy Note edge+ users on AT&T's network were still running Android 5.1 Lollipop until today is a bit puzzling. Note that Sprint and Verizon launched the Android 6.0 Marshmallow update for the Note 5 and the S6 Edge+ back in March with T-Mobile following the same path in April.
Based on the reports we've received, the update is available for most AT&T subscribers rocking one of the two phones. If you're in a hurry to get a taste of Marshmallow, head on over to Settings->About phone and you should be able to download it. The update measures about 1.4GB in size, and AT&T will force you to download it over a Wi-Fi connection.
From what we can tell, the update is Samsung's standard implementation of Android 6.0 Marshmallow, which comes complete with the new granular permissions, the battery-saving Dose mode, and Google Now on Tap. If you're new to Android 6.0 Marshmallow, make sure to read our full review for a complete analysis.
Apparently, AT&T is well aware that subscribers were expecting to get Android 6.0 Marshmallow on their phones earlier than this. In the forum post that announced the availability of the update, an AT&T employee said:
Everyone is very aware of the frustrations this has caused for the community, so we're all really excited internally that we get to announce these updates this morning. Right now it's literally a flurry of emails of people jumping for joy.
What do you guys think, is anyone
not
disappointed that AT&T took so long to bring Marshmallow to the Note 5 and the S6 Edge+?