Samsung Galaxy Note 4 clashes with LG G3: Vote for the better phone!
81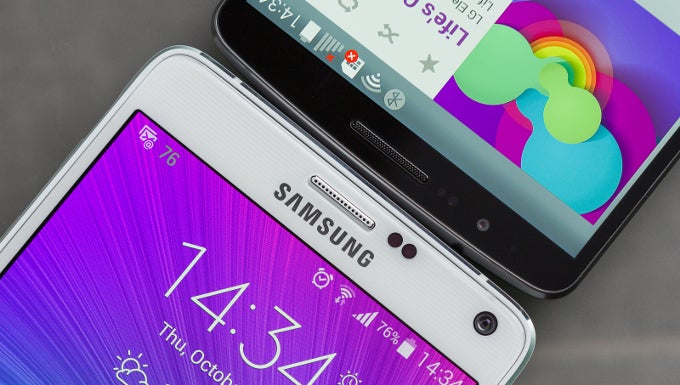 Introduction
The Samsung Galaxy Note 4 is the latest incarnation of Samsung's phablet line – arguably, the very same line that started the "larger screen" trend that is now prominent across flagship handsets. We'd like to compare it to another device that was among the pioneers in the newest smartphone craze – the QHD (1440 x 2560) screen – and see how both handsets fare in the eyes of our readers. We will be comparing both devices in a few different categories and you get to vote for the best performer under each one. So, without further ado – we give you the Galaxy Note 4 vs the LG G3.
Design
Samsung really pulled out all the stops with its Galaxy Note 4, starting with design. Gone is the faux metal binding that irked a lot of users – it is now replaced by a real metal frame, forged to be both pleasing to the eye and easy on the hands. The back of the device still has a removalbe leather-emulating plastic cover, much like the Note 3, though, it lost the stitching texture at the edge; it is slightly curved, allowing for an easier, more secure grip. The buttons on the sides have a slightly higher profile, allowing for a bit better feedback. On the front, under the 5.7" screen, we have the physical home button, sided by the capacitive task-switcher and back buttons – something that Samsung places on all of its devices.
The LG G3 also sports a premium look, even though it's made of plastic, the manufacturer did a good job at making it look like it's covered in brushed aluminum. This handset also has a curve on the back, though, a much more dramatic one, which, combined with the device's slightly smaller dimensions, allows for a more comfortable grip. LG likes to put the power and volume buttons of its devices on the back – right where the user's index finger rests. The front of the device is home to the 5.46" screen and has no other controls on it, as LG chose to rely on Android's integrated on-screen home, back, and tasks buttons.
In terms of size and weight, the Galaxy Note 4 measures at 6.04 x 3.09 x 0.33 inches (153.5 x 78.6 x 8.5 mm) and weighs 6.21 oz (176 g), whereas the G3 is visibly smaller, though just a tad thicker, at 5.76 x 2.94 x 0.35 inches (146.3 x 74.6 x 8.9 mm) and is lighter at 5.26 oz (149 g). The Note 4 sports a 5.7" screen and its screen-to-body ratio is around 74%, while the LG G3's slightly smaller 5.46" screen is housed in an even smaller body, which brings its screen-to-body to 76%.
Display
The Galaxy Note 4's display follows the recent QHD trend with a 1440 x 2560 resolution, which means that the 5.7" display sports a 515 ppi pixel density. Samsung uses its proprietary "Super AMOLED" technology to light up the screen. The display's maximum brightness measures at 468, which is not the best, but should still be viewable in daylight, while its minimum brightness measures at 1 nit, which makes for comfortable viewing in the dark. The Note's color temperature measures at 6667 Kelvins , which brings it quite close to the reference value of 6500 K. As for viewing angles, the Note 4 shows quite the distortion for a device of its class, when viewed at a 45-degree angle.
The LG G3 also sports a 1440 x 2560 QHD display and its slightly smaller 5.46" screen bumps the ppi up to 538. LG placed an IPS LCD panel on its device, with a max brightness level that is a tad lower than Samsung's phablet at 455 nits, and a lowest brightness at 9 nits, which makes for a slightly more uncomfortable viewing in bed. The color temperature measures at 7099 K – quite higher than the reference point, which results in noticeably colder colors. On the flipside, when viewed at a 45 degree angle, the G3 shows notably less distortion than the Note 4.
Display measurements and quality
Interface and functionality
The Samsung Galaxy Note 4 comes with Android 4.4.4 dressed up in the latest version of Samsung's proprietary TouchWiz interface. This custom UI is well-known for being feature-packed to the brim, commonly switching out a lot of Android's stock appearance, which often results in a steeper learning curve. The Note 4 makes no exception and provides a flurry of options, settings, and capabilities – the commonly-found on Samsung flagships Air Gestures, Smart Stay, Smart Scroll, split-screen multitasking capability, ability to launch some apps in a floating window and, of course, the extra functions to complement the signature S Pen. To make it easy for users to operate the device with one hand, Samsung includes a "one-handed mode", which shrinks the active screen area down and moves it towards the left or right of the screen, bringing far-away corners closer for a thumb to reach. The Note 4 is also full of sensors not commonly found on every smartphone – from the fingerprint sensor embedded in the home button, to the heartrate monitor, to a UV sensor, which measures the current danger levels of sunlight, to the even more unorthodox SpO2 sensor, which measures the user's bloodstream oxygen saturation.
G3 offers a much flatter, more intuitive design, with LG's UI employing more "mature" colors, which provides for a more tame picture. There are much less features to be found here, which may be a good or bad thing, depending on user preference. LG uses Android's software buttons for back, home, and task switching, but it also allows users to customize the stripe where these controls reside, by either rearranging the buttons or adding other ones. The G3's UI also allows users to split the screen (Dual Screen mode) and have apps in floating windows (QSlide) above whatever they are doing in the background. As far as one-handed mode goes – such functionality is limited to LG's keyboard and dialer, rather than allowing the user to shrink the whole picture down.
Camera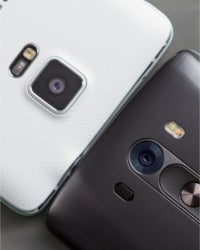 The camera in the Galaxy Note 4 has a 16 MP resolution and employs Sammy's ISOCELL technology, while image quality is further boosted by both an optical image stabilization (OIS) and a digital one, resulting in what Samsung calls "Smart OIS". Much in the style of TouchWiz, the camera app is also full with a wide array of options and shooting modes. The front cam is a selfie aficionado's dream, with a 3.7 MP resolution.
The LG G3's main snapper comes with a slightly lower, yet still respectable, resolution of 13 MP. It also has optical image stabilization, which LG calls "OIS+", since the company claims that it has worked on the tech to bring its quality even higher. This is combined with a Laser Autofocus system that works quickly and efficiently, providing quick and fail-safe focusing, and also information for the camera app's Magic Focus mode that lets you tinker with a picture's focus after it is taken. As far as shooting modes go, however, the G3 has a more modest selection (panorama, beautify, face-in-picture), where the Note 4 has a bucketload of choices. The front cam also sports a bit of a more modest resolution, at 2 megapixels.
Both camcorders offer up to 4K (3840x2160) at 30 FPS recording, though the Note 4 is capable of recording motion at 60 FPS at 1080p, whereas the G3 is capped at 30 FPS throughout its modes.
So, drop your vote where you think it should go in each poll and voice your opinion on this head-to-head in the comments below. The polls will run 'till Wednesday and results will be out shortly afterwards.