Samsung Galaxy Note 3 display ranks on par with the best, AMOLED hugely improved
81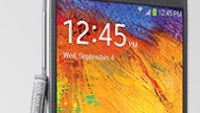 The
Samsung Galaxy Note 3
arrived on AT&T today, and in the next few days it will appear on all four major U.S. carriers, so it's just the right time for an in-depth look at that humongous 5.7-inch 1080p display. The Note 3 is the biggest jump in display technology in the Note series so far as it is the first Samsung phablet to get a 1080p screen. Interestingly, though, Samsung may not have just improved the display slightly - it might have made its best AMOLED display so far and here is why.
AMOLED, 1080p and PenTile Diamond pixel
The Note 3 features a 5.7" Super AMOLED display with the new PenTile Diamond pixel arrangement that is not standard RGB. To understand the ins and outs of it, we turn to screen experts from DisplayMate who have meticulously measured colors, brightness, contrast, viewing angles, screen reflections and power consumption. Summarized in a few sentences, the Note 3 screen is probably the best AMOLED screen out there and it finally can play on par with the best LCDs out there. That's not just because of the increased sharpness, but mostly because of a huge boost in brightness and outdoor readability, as well as a variety of screen modes that will please both professionals and those looking for more eye-popping colors.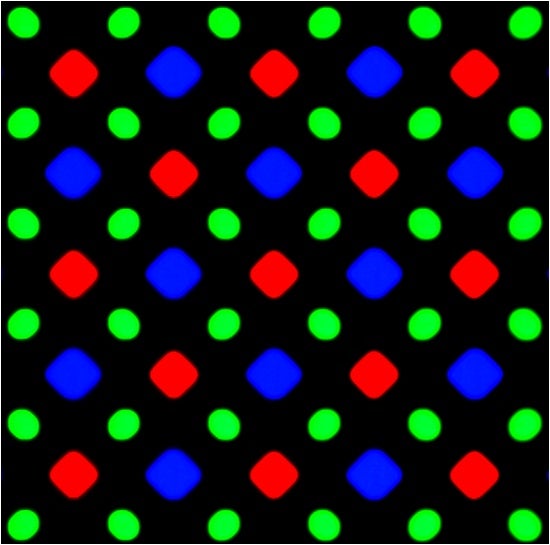 Diamond pixel arrangement on the Note 3
First, the increased sharpness. The Note 3 has a screen with a resolution of 1080 x 1920 pixels and that works out to pixel density of 388ppi, noticeably sharper than the 265ppi display of the Note II. Additionally, it comes with the benefit of 1080p being a very common format and in most cases there's no need to convert media, and that in turn results in power savings. The screen uses the Diamond pixel arrangement we first saw in the Galaxy S4. It has 2 sub-pixels instead of 3, with blue being predominant and green least present because of color efficiencies, but the high resolution compensates for the low number of sub-pixels.
Huge gains in brightness
However the biggest change has come in brightness. Traditionally, AMOLED screens have been notoriously dim and not very easy to use in bright sunlight. This changes completely in the Note 3 as it has a much more luminant display, providing around 400 nits of brightness in most conditions, on par with the best LCDs out there. Moreover, outdoors, the Note 3 can deliver an outstanding 660 nits of brightness, nearly 40% brighter than the Galaxy S4. Still, to be great for outdoor use, a device not only needs to have a bright screen - it also has to have low screen reflectance, and good news is the Note 3 has them both.
One of the best things about AMOLED displays is that you can pick a screen mode to your liking. The Galaxy Note 3 offers 5 screen Modes: Adapt Display, Dynamic, Standard, Professional Photo, and Movie. By default, the screen is set at Adapt Display Mode that brings overblown colors, and is better for outdoor clarity. Movie is the most accurate in terms of color calibration for all common content including photos and videos. The Professional Photo Mode calibrates the screen to the Adobe RGB standard and comes to use with advanced and pro photographers.
Finally, the Note 3 also features a very impressive gains in power efficiency - the display is 26% more efficient than the Note II, and 31 percent more power efficient than most full HD LCD smartphones.
All in all, Samsung really did its best with the Note 3 display. It has the vivid colors that can be fine-tuned and not necessarily overblown, it has outstanding viewing angles, and it has hugely improved brightness and outdoor legibility. Take a look at the charts and images explaining it all right below, and hit the source link at the bottom for the tiny details.
source:
DisplayMate