Samsung Galaxy Note 10/10+ are Android refined to perfection, but no great risks taken (hands-on)
26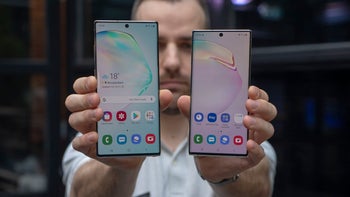 After months of endless leaks and rumors, and speculations, the new Samsung Galaxy Note 10 series are finally official!
And yes, it's true: this year, for the first time, we have not one, but
two
new phones in the Note family: the Note 10+, a phone with a giant 6.8-inch screen and a big battery, but also a smaller Note 10 that looks extremely similar, just way more compact. This is the phone for the rest of us, those who want a powerful and productive phone that is not gigantic.
And they both look sexy, especially when you compare them against last year's Note 9: gone are the large bezels, gone is the fingerprint scanner on the back, and both new Note 10 series have screens that go all the way from edge to edge, with a tiny cutout for the front camera in the middle and a clean backside. They are made of glass on the back and front, and metal for the frame in the middle, and they feel very solidly put together, truly premium devices. One thing that stands out in particular is the styling: while most phones these days have rounded corners, the Note 10 series have the shape of a rectangle with much sharper corners, and that gives them a bit of a distinct character.
Both the smaller Note 10 and the larger Note 10+ come in a black and a white color versions, and you also have a third one that Samsung calls Aura Glow that is really quite surreal: it's not at all a gradient like on Huawei phones, but it can turn into one depending on the light it reflects. We saw it change from shades of red to different hues of green and blue as it reflects different light, and it's by far our favorite color. The smaller Note 10 will come in one extra color — pink — but that version seems to be reserved for select Asian countries and is not likely to make it to other markets.
So what is new in the Galaxy Note 10 series and should it be your next phone? Let's first take a look at the specs:
| Name | Samsung Galaxy Note 10 | Samsung Galaxy Note 10+ |
| --- | --- | --- |
| Base platform | Android 9 Pie | Android 9 Pie |
| Custom interface | Samsung One UI | Samsung One UI |
| Size | 151 x 71,8 x 7,9 mm, 167 g | 162,3 x 77,2 x 7,9mm, 196 g |
| Colors | Aura Glow, Aura Black, Aura White, Pink | Aura Glow, Aura Black, Aura White |
| Screen | 6.3-inch Dynamic AMOLED | 6.8-inch Dynamic AMOLED |
| Resolution | 1080 x 2280 pixels | 1440 x 3040 pixels |
| Biometrics | Ultrasonic fingerprint scanner | Ultrasonic fingerprint scanner |
| Processor | Snapdragon 855 or Exynos 9825 | Snapdragon 855 or Exynos 9825 |
| RAM | 8GB | 12GB |
| Storage | 256GB, UFS 3.0 | 256GB or 512GB, UFS 3.0 |
| Expandable Memory | No | Yes, via microSD cards |
| Main Camera | 12MP f/1.5-f/2.4, OIS | 12MP f/1.5-f/2.4, OIS |
| Rear Camera #2 | 12MP 2x telephoto 52mm, f/2.1, OIS | 12MP 2x telephoto 52mm, f/2.1, OIS |
| Rear Camera #3 | 16MP ultra-wide 13mm, f/2.2 | 16MP ultra-wide 13mm, f/2.2 |
| Rear Camera #4 | x | ToF Depth Sensor |
| Front Camera | 10MP | 10MP |
| Battery | 3,500 mAh | 4,300 mAh |
| Charging | Up to 25 watts via USB-C, Supports wireless charging | Up to 45 watts via USB-C (comes with a 25-watt adapter in the box), Supports wireless charging |
What's new
in a nutshell

?



No headphone jack (and no dongle in the box, but you will get a free pair of USB-C AKG-tuned headphones)
Bixby button is gone
256GB base storage, double than before
Improved S Pen with better note-taking and camera remote control features
AR Doodle in camera, Live Focus Video
f/2.1 Telephoto Camera with better performance in low-light
ToF depth sensor on Note 10+
S Pen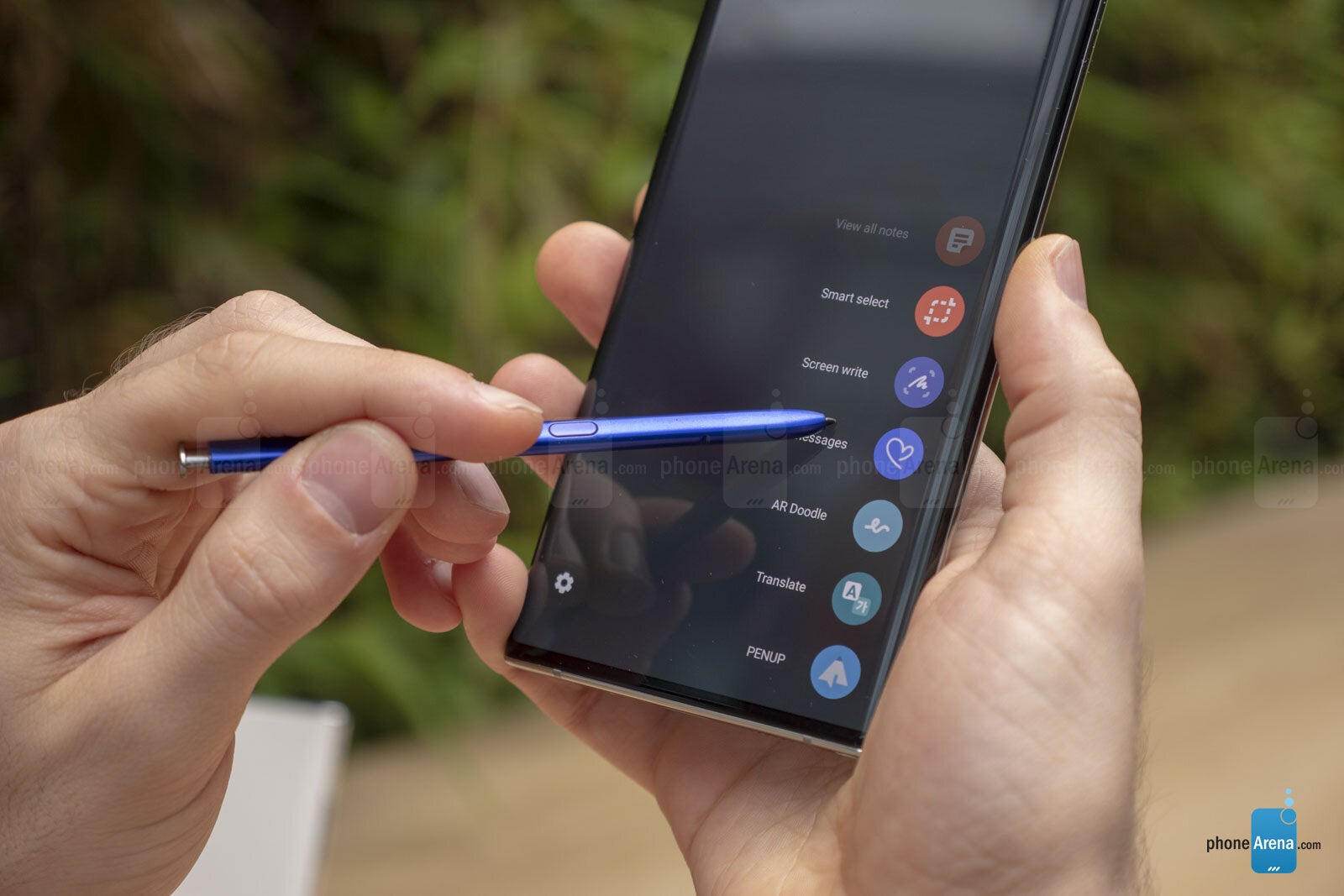 The S Pen is the defining feature of the Note series, and Samsung has continued improving it and adding new features to it.
And this time you can tell from the get-go: the new S Pen in the Note 10 does not just have a couple of new features, it physically feels like a much more solid piece of gear. It now has a unibody design that feels extremely sturdy, much more durable when you compare it against the plasticky feel that you had in the S Pen in earlier Notes. It's a night-and-day difference. This new S Pen will also automatically charge once tucked inside the Note, and it features a new Lithium Titanium battery that lasts much longer than before, so now you can get up to 10 hours of stand-by time on it.
The S Pen now comes in different colors too. The Aura Glow Note models have a blue S Pen, while the white and black models have matching colors for the S Pen.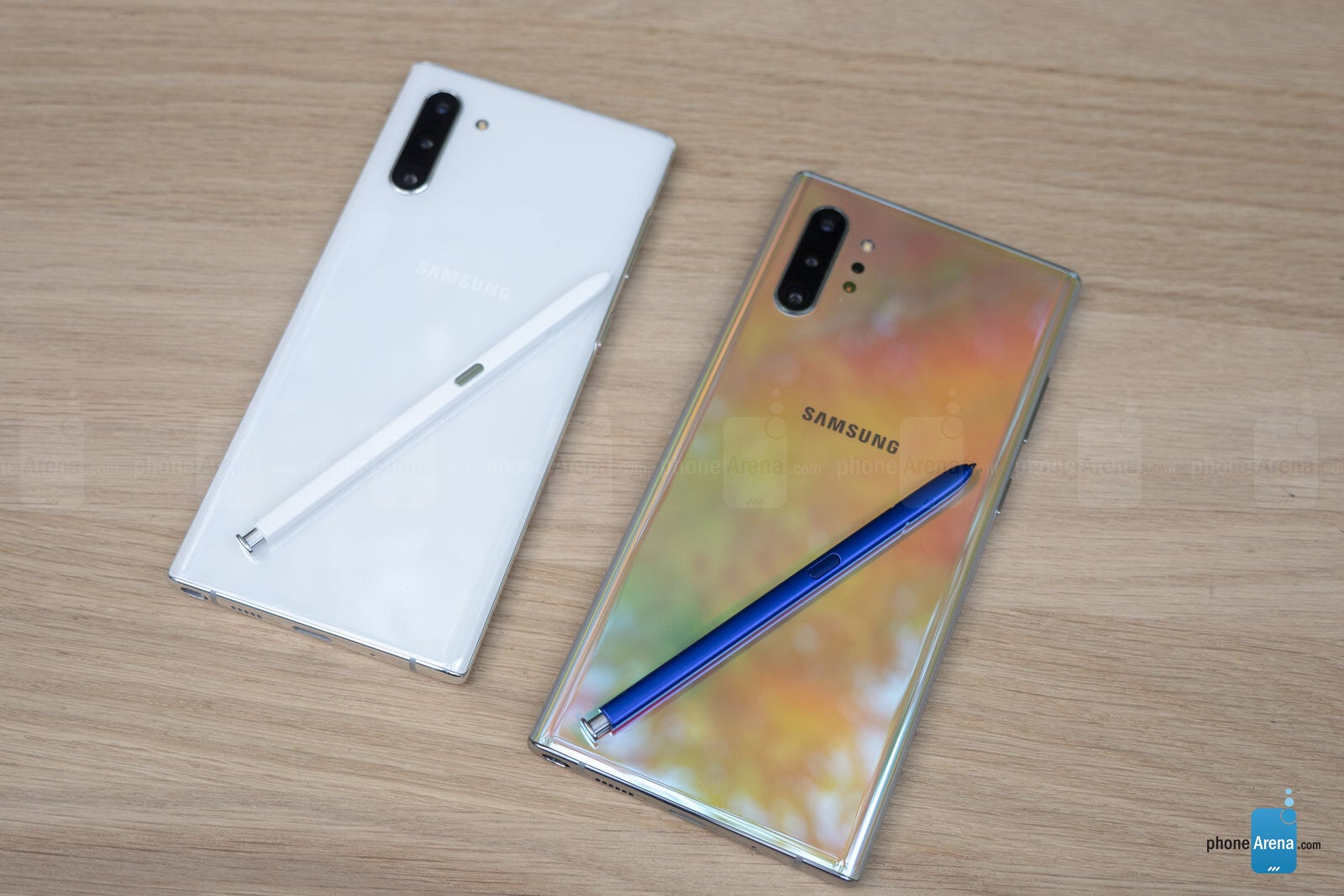 In terms of the features, all the familiar tricks are still available: you can still take the S Pen out and hop up directly to the lock screen memos to quickly jot down things. The pop-up S Pen menu, however, is different: it's now a list instead of a carousel and it's easier to navigate. Samsung has improved its Notes application so it now does a much better job recognizing your handwriting and you can easily export those notes to a Microsoft Word format (we tried the handwriting recognition, and it really does an impressive job, even if like us, you have quite ugly handwriting). You can also easily pinch to zoom in and out within the Notes app, which is useful for those who draw on the Note to get those tiny details right.
Then, you have the new air gestures in the camera: you can still use the S Pen as a remote control to take a photo, but now you can also hold the S Pen button and swipe up to switch between the front and rear cameras, you can switch between camera modes and you can even zoom in using these new gestures on the S Pen.
New Camera features
Image quality has not improved from the S10, but you have new features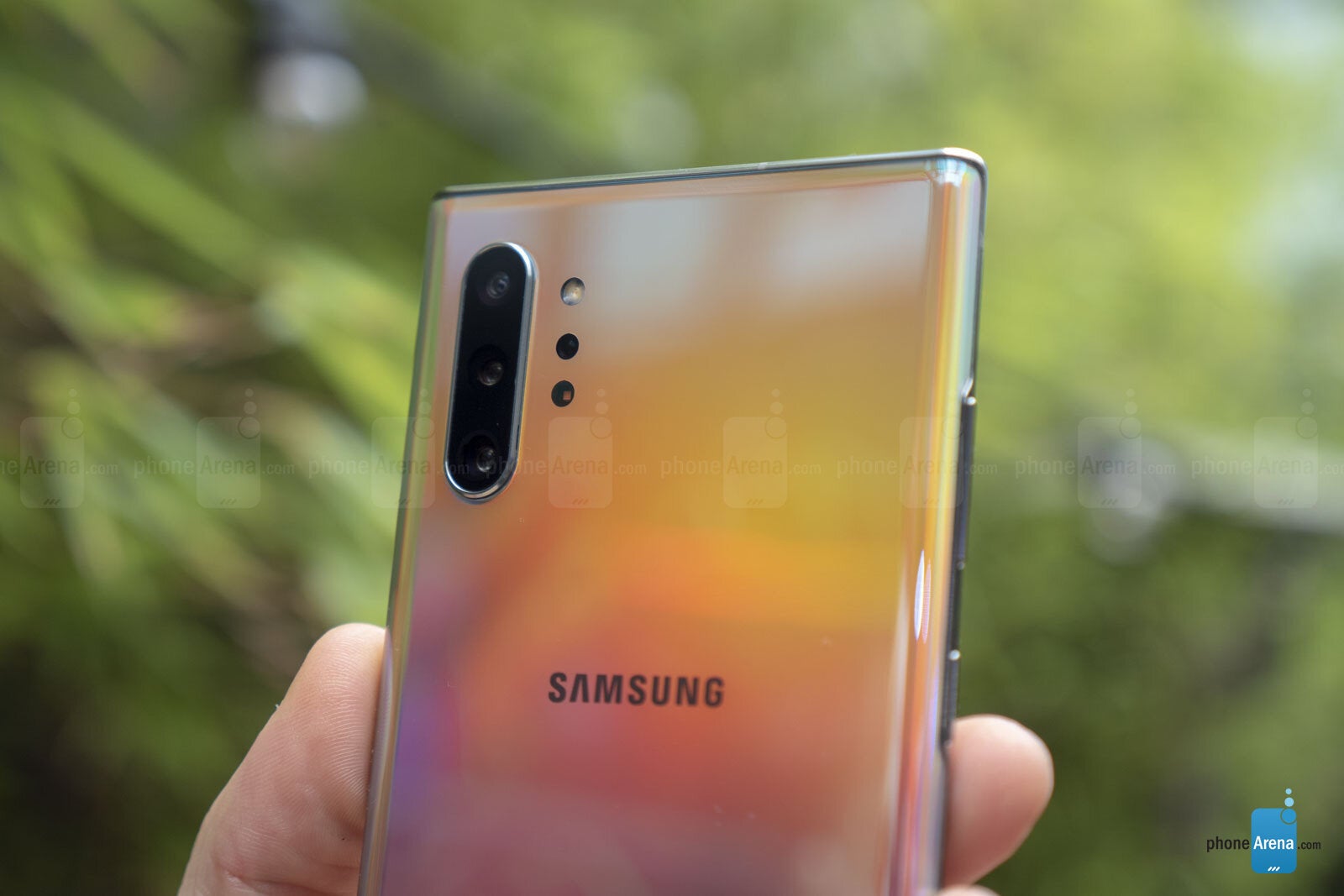 Let's get the big question out of the way first: does the Galaxy Note 10 have a better camera than the S10? The answer to that is basically a "no", it's the same camera setup, with roughly the same image and video quality.
Just like on the S10, the Note 10 series will come equipped with three cameras on the back: the main shooter, a telephoto 2X zoom lens, and an ultra-wide angle camera. The Note 10+ will also have a time-of-flight (ToF) depth camera.
What's new is in the actual shooting mode and features, starting with Live Focus video. Live Focus is the name for Samsung's portrait mode that you could previously only use for photos. With this mode, you can now blur the background in videos too, so you or your subject stand out more, and you also have tricks like turning the background black and white, and leaving only the subject in color.
Another new feature is the zoom-in mic that allows you to tap on, say, someone playing a musical instrument and better isolate that sound from the background, and you will also see the volume increase when you zoom in.
Super Steady was an impressive video stabilization that Samsung debuted on the S10 series and it's been improved and now Super-Steady-er on the Note 10. You also get a native video editor to help you mix a few clips together quickly, and you can use the S Pen to make precise adjustments and selections, down to the individual frame in a video.
Performance
12GB of RAM is the kind of sweet overkill Samsung likes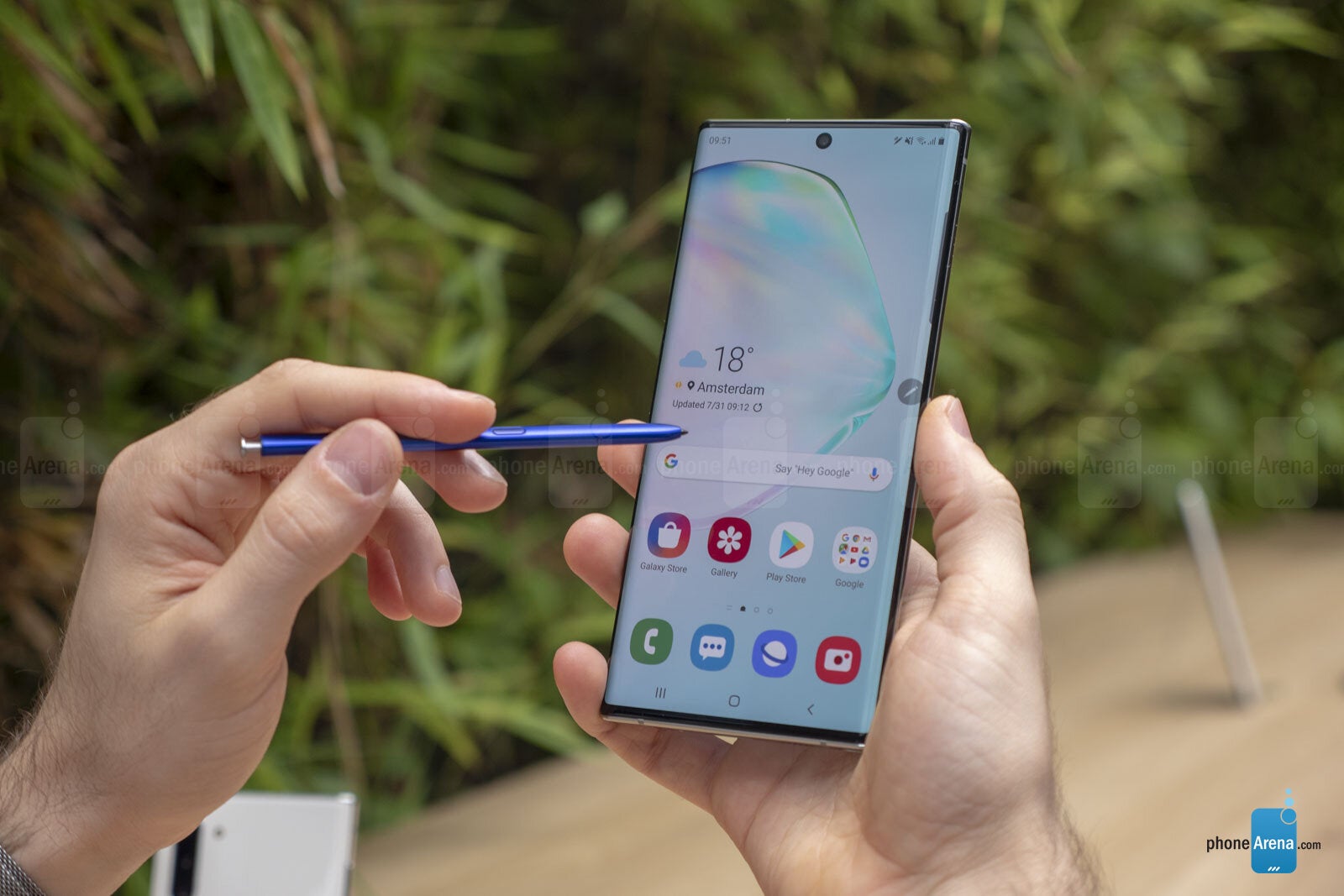 It's no surprise that the Note 10 series will be powered by the flagship Snapdragon 855 chip that you find on pretty much all high-performance Android phones in 2019. However, Note 10 models destined for countries outside the United States will get a different processor, the Samsung-made Exynos 9825. Both chips use the latest 7 nanometer lithography technology and should be very similar, yet not quite identical in terms of performance, and we do expect the Snapdragon models to have a slight edge.
Also impressive are the 12GB of RAM that you are getting on the Note 10+ model. This is an insane amount of RAM that will help keep apps open in the background for longer and will speed up the multitasking process for heavy users.
Battery and Fast Charging
The bigger model will have the better battery life
The Galaxy Note 10 comes with a 3,500mAh battery, while the Note 10+ has a much bigger, 4,300mAh battery cell. The bigger phone will clearly be the better choice for those who use their phone a lot and want the maximum battery longevity. Last year's Note 9 features a 4,000mAh battery, which provided very good battery life (but did not quite rank at the top of our charts), so we are excited to test the exact improvement this year.
| | Note 10 | Note 10+ |
| --- | --- | --- |
| Battery size | 3,500 mAh | 4,300 mAh |
| Charging speeds | up to 25 watts | up to 45 watts (requires separate adapter, in-box charger only supports up to 25 watts) |
The Note 10+ will also have one of the fastest charging systems out there: it will support up to 45 watts of power, but to get those super-fast charging speeds you will need to buy that 45-watt wall adapter separately. In the box, you will find a 25-watt charger that will still give it a fast charge, and that slightly slower charger is also said to be better for long-term battery preservation, so it might actually be the more sensible option.
Both the Note 10 and the Note 10+ support Qi Wireless Charging, and both can also do the reverse wireless charging trick so that you can use their battery to charge other devices with wireless charge support by simply placing those other devices on the back of a Note 10.
Samsung DeX on steroids
No dock needed and now you can run desktop apps alongside mobile apps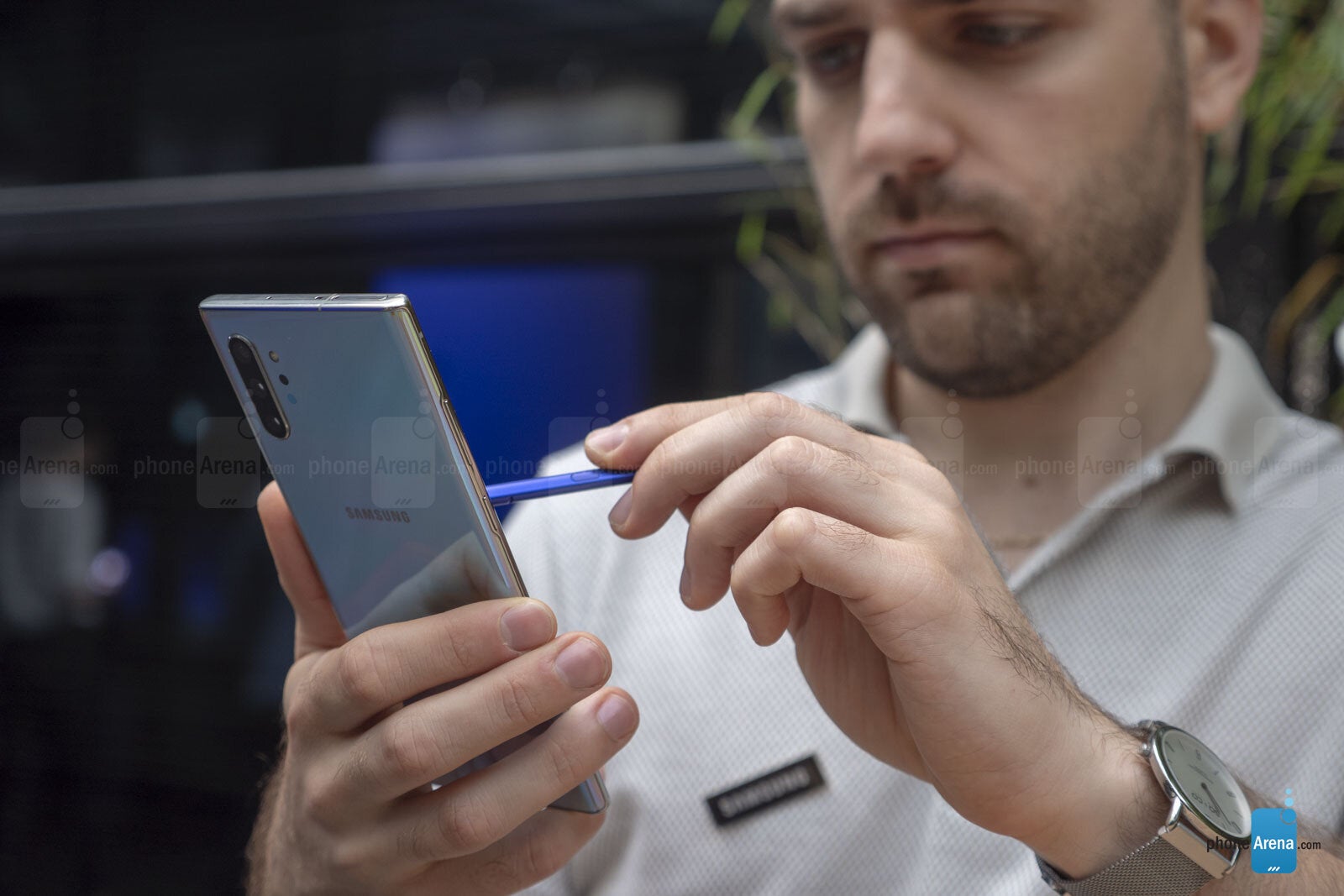 Samsung DeX has been one productivity hack that has remained a bit under the radar since its launch, but the Note 10 might bring it to the spotlight.
This new DeX works with just a cable, so you don't need a bulky dock to carry around with you, so it's just a USB-C cable that you can use to plug in your Note 10 to a monitor or a TV. Once plugged in, you will be now able to drag and drop apps directly from the Note to the DeX space on your laptop for instance, and you will be able to use native desktop apps alongside mobile apps. Cool!
Once connected via the cable, you will also get all your messages and notifications on your, say, laptop making multi-tasking at work a much easier affair and you will be far less distracted by phone notifications.
What about 5G?
Only available on the larger Note 10+ in select markets
5G is the new connectivity standard that has already started showing us what is possible after 4G LTE, but 5G networks are only available in a handful of places and Samsung recognizes that with the Note 10 series. Because of the limited availability of 5G, Samsung is making a 5G version of only the larger Galaxy Note 10+ and that version will only be sold in select markets where there is a 5G network.
We asked Samsung whether a regular Note 10+ model destined for a non-5G market still has a 5G modem inside it that might just be disabled, but that does not seem to be the case, so a non-5G Galaxy Note 10+ simply will
not
have 5G connectivity.
What's missing
Headphone jack and a microSD card slot on the smaller Note 10
The Note 10 phones are the first major Samsung phones to come without a headphone jack, and that will be a disappointment for many.
Not having the headphone jack on board means that you have to buy a dongle in order to connect to old stereo systems or headphones, or the AUX cable in your car. Samsung, however, does bundle both the smaller Note 10 and the larger Note 10+ with a pair of AKG-tuned USB-C in-ear headphones.
Interestingly, the microSD card for expandable storage is only available on the larger Note 10+
Price and Release Date
$1,000+, but did you really expect any less?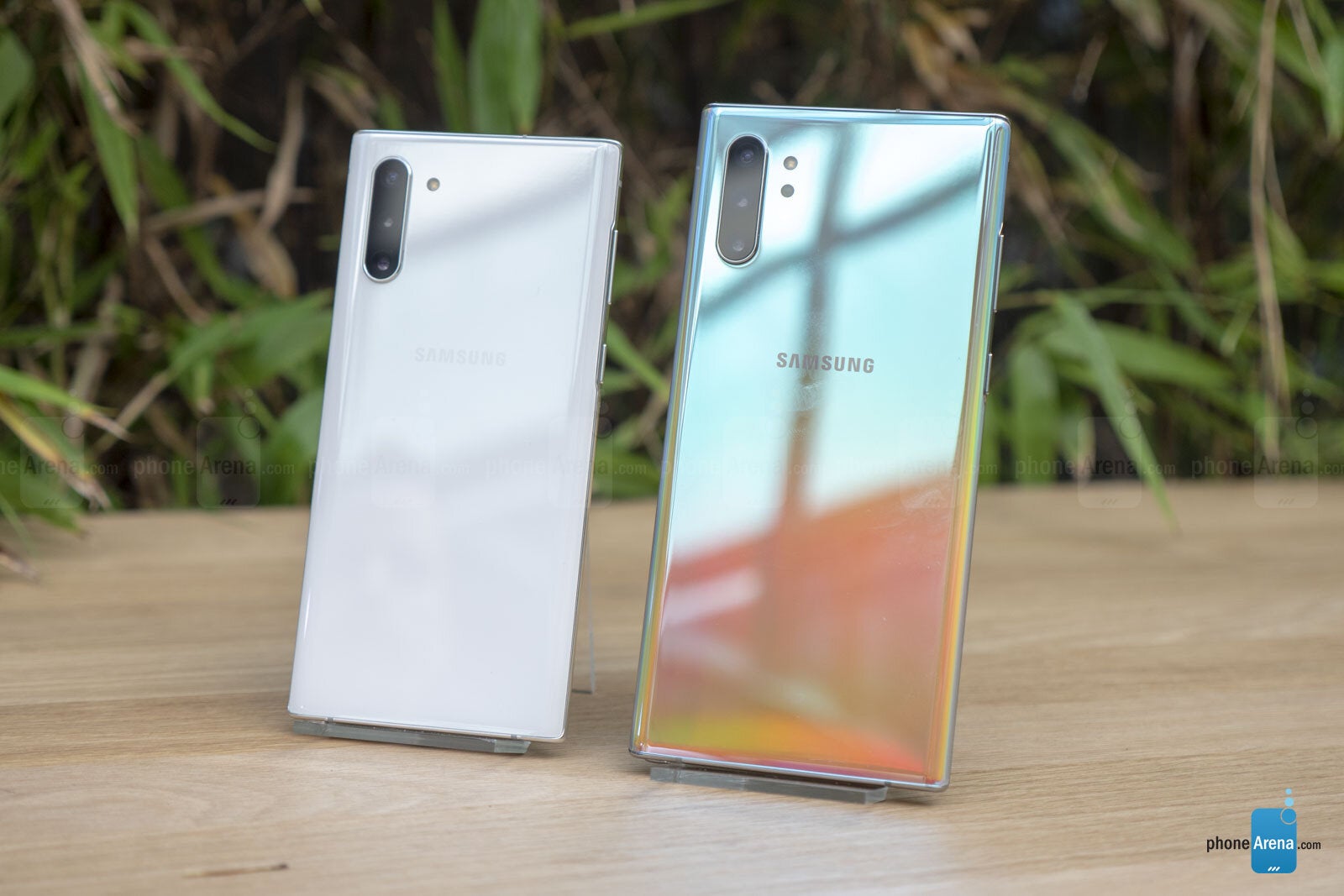 The Note 10 series release date is set for Friday, August 23rd, but you will be able to pre-order much earlier, starting from August 8 at Midnight, and Samsung has some deals for the first on the pre-order line.
The regular full retail price for the Note 10 is set at $950 for the base version, while the Note 10+ costs $1,100 for the base model. Right from the beginning, Samsung will be offering consumers to trade-in an older Samsung phones to get price cuts on the new Note 10 series.
| Model name & Pricing | 256GB storage | 512GB storage |
| --- | --- | --- |
| Samsung Galaxy Note 10 | $950 | Not yet announced |
| Samsung Galaxy Note 10+ | $1,100 | $1,200 |
| Samsung Galaxy Note 10+ 5G | $1,300 | $1,400 |
Refined, but behind on features?
Samsung has turned a bit of a blind eye to modern smartphone trends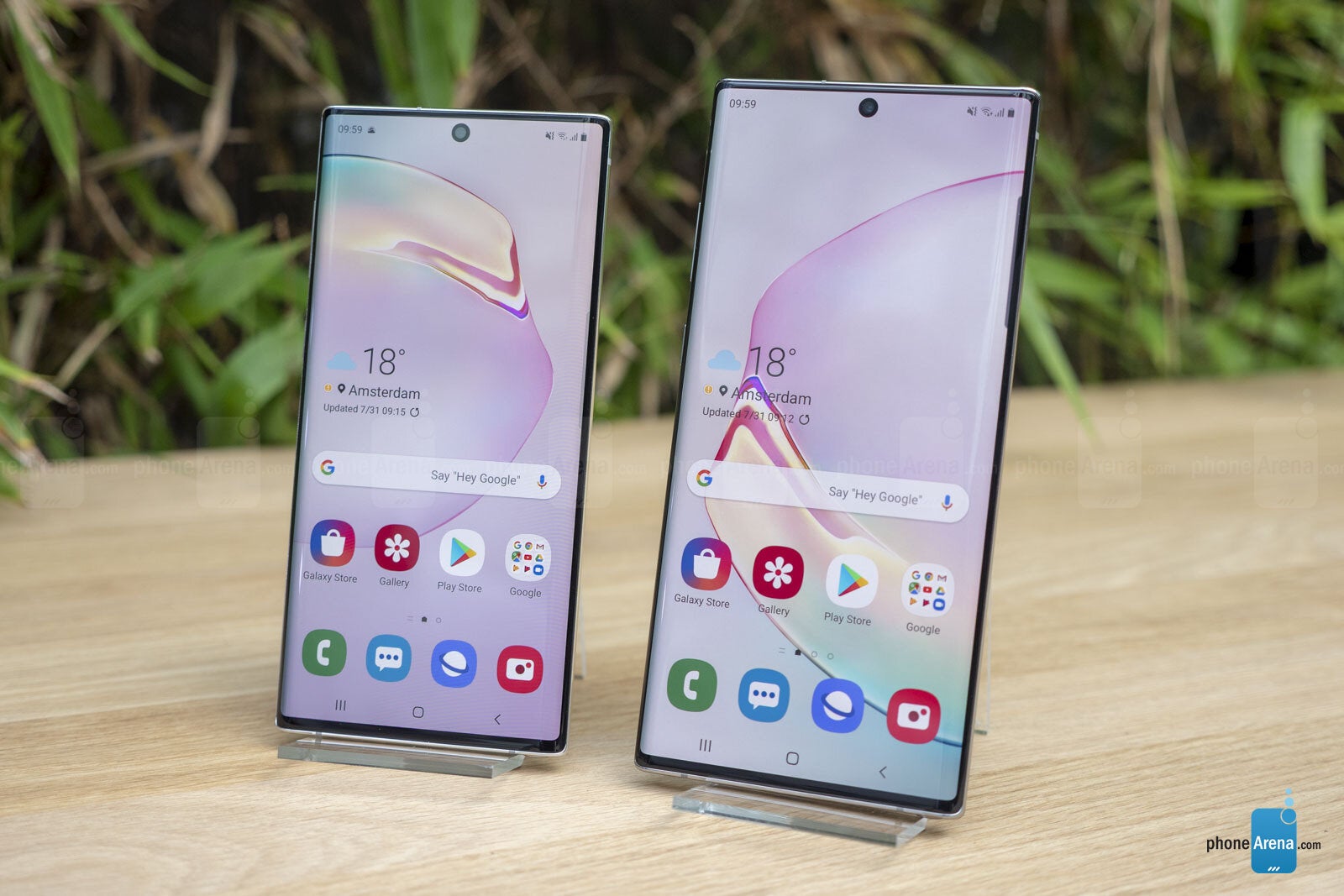 The Galaxy Note 10 sparked a mixed reaction in our office: there was no arguing that it's a beautiful and powerful phone, but some people rightfully pointed out that save for the S Pen, it's not all that much different than the Galaxy S10 family of phones that have been on the market since early 2019. It's worth elaborating that point in a bit more detail. First, the Galaxy Note 10 has the same processor as the S10 series. Second, it runs on the same software. Third, it basically has the same camera system as image and video quality has not improved in any meaningful way. But here is the counter-point: the Galaxy Note 10 is not a phone that tries to convince you that you should upgrade from the S10, it's a phone for those looking for the productivity boost from the S Pen and for those looking to upgrade from older phones.
We think there is truth to both sides of this argument, but what seems clear when you compare the new Note 10 series against the competition is that it seems like an incredibly refined phone, but also one that is not taking any great risks. OnePlus and Asus have phones with incredibly smooth, 90-hertz displays, a ton of Chinese phones have an edge-to-edge screens with absolutely no interruptions, Huawei and Oppo have 5x or 10x zoom cameras that impress, Apple has its big new software features and a ton of augmented reality innovation around Face ID, and then Samsung... it is kind of late on all those fronts, yet it is a phone that costs a lot more than all aforementioned devices.