Samsung Galaxy Nexus uses some type of "fortified glass", after all
55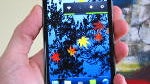 After Corning, the makers of the reinforced Gorilla Glass found in many smartphones and tablets,
tweeted that the Galaxy Nexus is not using their product in its screen package
, Samsung replied that the first Android ICS handset utilizes another kind of "fortified glass".

The company didn't specify which type, but there are alternatives out there to Corning's creation, which are not as public and advertised, but perform just as well.
Asahi's Dragontrail glass, for example, touts similar features, like being able to withstand 60 kilos on just 1mm thickness without shattering into pieces. See the presentation below:
We don't know exactly what kind of "fortified glass" Samsung is using for the Galaxy Nexus, but are fairly certain it won't break in tiny pieces with normal usage, and should survive the occasional drop on the carpet, otherwise it wouldn't have passed the QA tests each new product undegoes.