No monkey business here, Samsung GALAXY Nexus does not have Gorilla Glass tweets Corning
32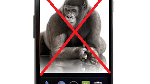 First publicized
for its use on the Motorola DROID
,
Corning's Gorilla Glass
has become a must have spec on high-end handsets as it protects the glass display from cracking and breaking. Corning puts the glass through a special salt bath which tempers the glass by sticking large ions into its surface, making it harder to break.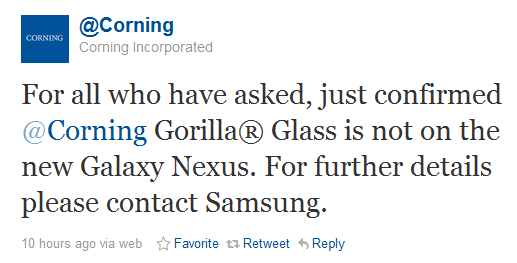 Corning says there is no Gorilla Glass on the Samsung GALAXY Nexus
Considering that the
Google GALAXY Nexus
would be considered a high-end handset, it might be surprising that the device will not feature any of Corning's Gorilla Glass on the phone. This has been confirmed by a tweet sent by Corning which shoots down some rumors that have been spread around that the device would offer the protected glass on its screen. The rumors came from a flyer that incorrectly listed Gorilla Glass on the specs of the phone.
Just because the Samsung GALAXY Nexus won't have the protection of Gorilla Glass doesn't mean that it will shatter instantly the moment it touches your hand. Still, we can imagine the hand-wringing that has started up already. And for those of you on the fence between this model and the
Motorola DROID RAZR
, the latter's 4.3 inch Super AMOLED screen is made from Gorilla Glass.
source:
Corning
via
Phandroid