Samsung Galaxy NEXUS vs S II vs Motorola DROID RAZR vs iPhone 4S: spec comparison
99+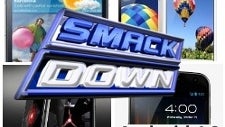 The last 24 hours, or let's just call it the last couple of weeks, have been kind of crazy. After the iPhone 4S was unveiled, now we have two brand new top notch devices in the Android camp and a major update of Google's platform. You know what that brings up, right? We're talking about the eternal question for geeks:
"Now, which one should I get?"
To help you with the decision, we've neatly brought down all available information together in the spec comparison sheet below without missing the fractions of an inch difference in thickness, the cores and hertz, and everything in between. It's not all about the specs, though, so we should say that the
Motorola DROID RAZR
for once is the thinnest device out there, but it also comes with kevlar-reinforced back. The
GALAXY Nexus
is all about the 4.65-inch screen and Android 4.0 Ice Cream Sandwich, but it's also got a neat curved design. The Samsung
Galaxy S II
is the oldest among them, but still manages to stand out with not only proven performance, but also very thin body and Super AMOLED Plus display. The
iPhone 4S
looks the smallest among those big Androids - it's 3.5-inch screen pales when faired with the larger competitors, but it's got the benefit of Apple's thorough polish, extreme responsiveness and iOS 5, of course, coming with your personal voice assistant Siri.
Now, that we've said that, let's get down to the pure specs. Take a good deep look, hold your breath and make a decision - you can vote right away in the poll below, and also later with your money if you buy the device. We'll announce the
poll results
on Monday morning, but don't wait until the last minute - every voice will count here.