Galaxy Fold vs Moto RAZR vs Mate X prices and release date tipped, a fall battle of the foldables
6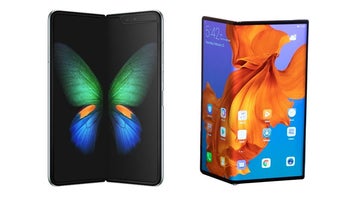 The more you try to escape the inevitability of folding handsets, the more they get you, resurrecting from the ashes of their long passed release dates in the spring. A Korean business publication
claims
that in the second half of the year we will witness not one, not two, but three foldable phones clashing for supremacy with different design concepts and price points.
Samsung Galaxy Fold release date
And when we say different designs we mean three completely separate approaches to making a phone that folds around its bendable display. First in line will be the
Galaxy Fold
, of course, with its vertical in-folding design, and the report says the final release date is set for September 18.
Then comes Huawei's
Mate X
which is waiting to be
greenlit as a 5G device
already but the release is in flux as we don't know what will happen with the White House's stay on the ban of US companies doing business with Huawei. If it continues after the three months stay passed in mid-August, the release may be postponed until the trade war smoke with China clears up.
Foldable Motorola RAZR price
Last but not least, there will be a
foldable Motorola RAZR
indeed, claims the report, and there is no other handset more suitable for the bendy treatment than the ultrapopular clamshell of yesteryear. That one will have the smallest screen of the three, at 6.5 inches, the most logical bend - around a horizontal axis - and the lowest price of about $1500.
The Galaxy Fold is expected to cost just short of $2000 again, with the 5G version going for more, while the Mate X that will ship with 5G modem from the get-go is pegged at 2299 EUR.
Needless to say, we are most excited about the foldable RAZR, as we've seen and probed the other two, plus our readers have spoken and
polled
its foldable clamshell design as the most desirable of the three. Look no further than Sharp's foldable screen phone concept for an idea how a foldable RAZR could look like.