Samsung Galaxy Beam approved by FCC, supports AT&T bands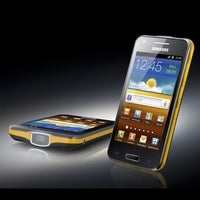 Well, what do you know, if it isn't for the
Samsung Galaxy Beam
paying a visit to the FCC. The smartphone has just recently received the commission's seal of approval, meaning that it complies with all regulatory requirements. Interestingly, a thorough examination of the FCC filing reveals that the device has support for AT&T's 3G bands at 850MHz and 1900MHz.
For those of you who don't remember, the Samsung Galaxy Beam is an Android smartphone with a killer feature, namely that it comes with a built-in pico projector. With an output of 15 lumens, it can project an image of up to 50 inches in diagonal right on your wall, which makes it an excellent multimedia device.
In terms of hardware, there is a dual-core processor clocked at 1GHz ticking under its hood, and the WVGA display on its front measures 4 inches in diagonal. For more details, feel free to check out our
Samsung Galaxy Beam preview
.
Of course, whether the Samsung Galaxy Beam will ever be launched on AT&T, or any other U.S. carrier, is still unknown, but here's to hoping.