Samsung Galaxy Alpha: can it top the iPhone 6?
99+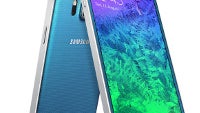 The first Samsung Galaxy smartphone to feature a metal body with a premium look to it has been unveiled with a splash today. We're talking about the Samsung Galaxy Alpha, a stylish device with chamfered edges that also happens to be the thinnest Galaxy yet.
As much as its thin profile and metal build with chamfered edges are an advantage, they are also somewhat similar with the design used by Apple in its iPhones. Add to this the fact that the Alpha features a 4.7-inch display, the same size as expectations are for the Apple iPhone 6, plus it's the first Samsung phone to come with a nano SIM card slot (just like the iPhone) and with no microSD card slot (again, like the iPhone) and it becomes clear that Samsung is releasing this as a counter-measure against Apple's upcoming flagship.
But can it succeed in its efforts? While we can't make an apples to apples comparison (we don't have any official information about the iPhone 6 just yet), we have seen plenty of leaks about Apple's next big thing. Enough for us to wonder: is the Samsung Galaxy Alpha enough to make the Apple faithful crowd switch? And does it bring enough to top the iPhone 6?