Samsung GALAXY Nexus comes with a barometer, but why is that?
14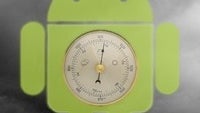 You already know about the main highlights of the
Samsung GALAXY Nexus
- bigger, with amazing HD resolution of 720 x 1280 pixels on a gigantic 4.65-inch display and featuring a fast qual-core processor and most importantly
Android 4.0, Ice Cream Sandwich
. But some of you might have noticed that the GALAXY Nexus comes with one more sensor - a barometer. Actually, it's one of the very few devices we've seen (the Motorola XOOM also has it) that have a
barometer
, usually used for measuring atmospheric pressure.
So why is it there? Turns out, it's not just for the sake of those measurements, but for... faster
GPS lock-on
. Here's the full explanation, coming from Google's own Dan Morril:
The primary purpose of the barometer is (at least, I've been told) to make GPS lockons faster. Locking on to a GPS involves numerically solving a 4-dimensional set of linear equations — 3 dimensions in space, and time. (Yes, you get accurate time for free if you lock on to GPS.) Because of the way GPS works, this can take a few minutes.This goes much faster if you already have an estimate of your location. This is why "aGPS" (assisted GPS) services are so popular: by starting with a rough city-level coordinate fix through something like cell-tower network location, you can reduce the amount of math you have to do to lock on. This is where the barometer comes in.The 3 dimensions in space are latitude, longitude… and altitude. The barometer gives you a reasonable first-cut estimate for altitude. This gives you a bit of a leg up on one of the dimensions — especially combined with "2D" aGPS — which can help speed up lock-on in general.Now of course, the barometer can also be used for things like, well, determining atmospheric pressure (although I'm not sure it's really weather grade.) But the main reason it's in your phone is to help with GPS.