Fortnite fans are stealing the Galaxy skin from Note 9 demo units, and Samsung is not impressed
18
Those brave early adopters that used the
Note 9
to venture into the world of thousand-dollar phones were rewarded by Samsung with a
Fortnite Game Bundle
, worth $150, which includes 15,000 V-Bucks and an exclusive skin.
To receive said Galaxy Fortnite skin, you had to register with the Shop Samsung app and pick the Game Bundle option, then redeem it by signing in to your Samsung Account on your shiny new Note 9 or
Tab S4
.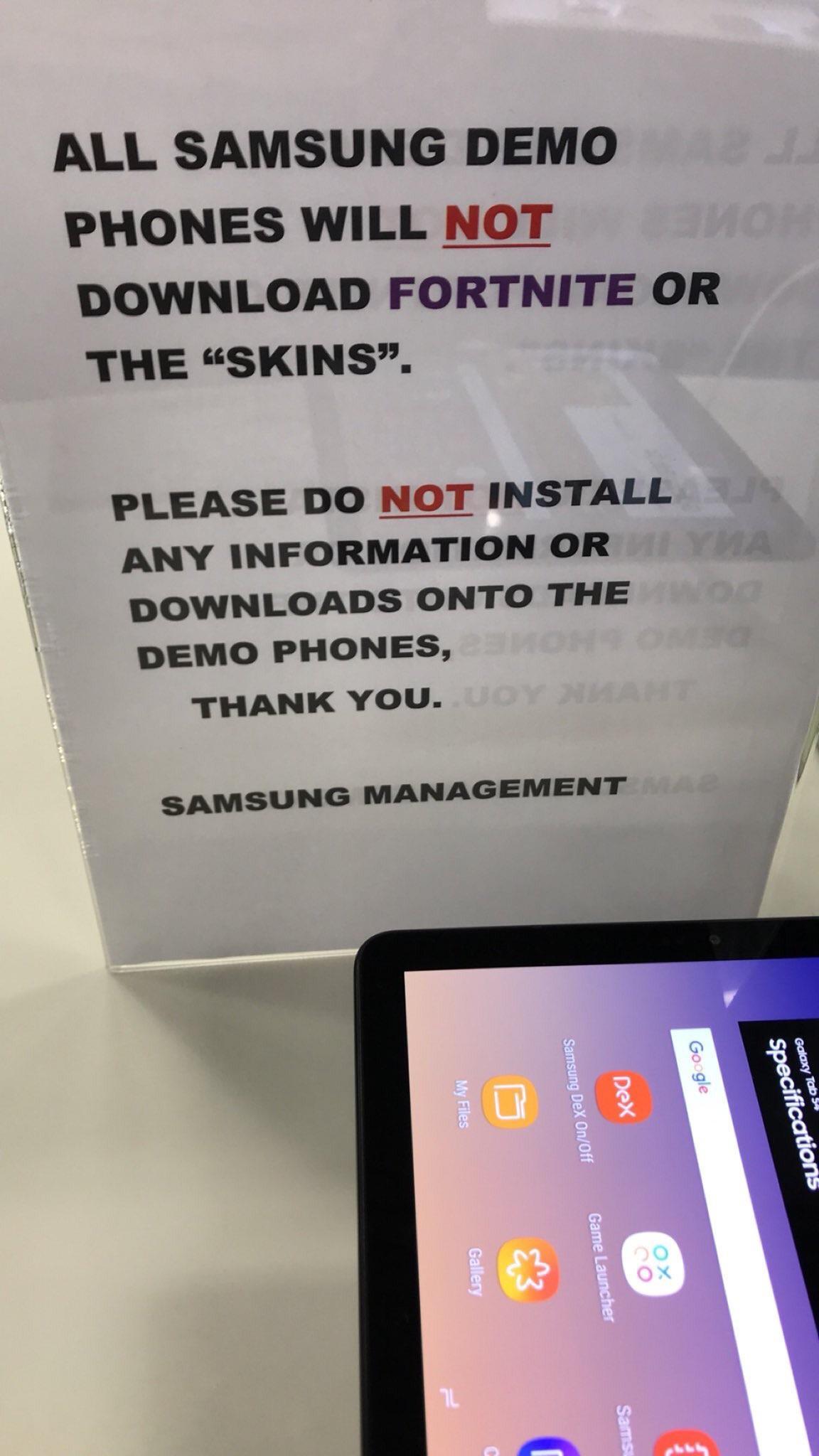 Enterprising Fortnite fans, however, apparently started skipping all that pesky $999 phone purchase requirement by playing the game on demo phones in retail locations or carrier shops.
They download Fortnite on the Galaxy Note 9 or Tab S4 in the stores, log with their game accounts, played the required three matches, and went on their merry way. In a day or two, a Fortnite gift box lands in their account, and they snatch the coveted Galaxy Skin for the joy of everyone involved in the scheme.
Everyone but Samsung, as apparently the phone maker is not impressed by randos trying to steal its
Note 9 thunder
, and have started putting the warning you see here in some shops. There is a whole thread dedicated to the steps you need to take to snatch it, but the experience of hustling for the Galaxy Skin is increasingly sounding like this one below:
I tried doing this yesterday at TMobile, after about an hour of being there, Fortnite was at 40% downloaded. After that hour I reconsidered my life and left. It's not worth it, I pretty sure Samsung is going to have the same promotion for the S10 and I'm for sure getting that one anyway.