Samsung Focus Flash unboxing and hands-on
19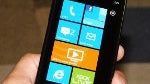 One year after we first were introduced to Windows Phone 7 smartphones, North America is slowly seeing its fair share of freshly baked Mango devices. So far, the
HTC Radar 4G for T-Mobile
kicked things off as it became the first new crop of Windows Phone Mango smartphones to launch domestically – bringing HSPA+ connectivity to a Windows Phone. Well, it's now AT&T's turn as the
Samsung Focus Flash
attempts to allure customers with its fresh
approach and inexpensive offering
.
Packaging wise, there's nothing out of the ordinary with this typical looking box, since it's flaunting those characteristic white, blue, and orange color arrangements associated with AT&T. On the front, we find a small image of the handset, while in the rear, there's a larger one that exposes more of its details. Also in the rear, we're presented with some small tidbits regarding the handset's highlights. Inside, the handset is shipped alongside with the usual accessories and information – like its documentation, wall charger, and microUSB charger. Thankfully, Samsung and AT&T was so kind to throw in a pair of headphones, which is nothing new, but highly appreciated considering its
$49.99 on-contract price
.
As for the handset itself, it easily reminds us of the Samsung Captivate, AT&T's version of the original Samsung Galaxy S, since its overall design shares many traits. Specifically, it boasts some hard lines with some angled top and bottom edges, which combine together to give it a
squarish appearance
. Indeed, we like that it's far more
compact
than the Captivate, but for a device that's sporting a plastic exterior, we're amazed to see it clean looking – though, its display does get dirty much more easily. Nevertheless, a quick swipe from a cleaning cloth gets it back to its pristine appearance.
Turning it on, we're still captivated by its
3.7" WVGA Super AMOLED display
because of its high-contrast, deep colors, and sharp details. Sure it's not Super AMOLED Plus, but in any event, we're still more than accepting of it. Internally, the handset is powered by a
single-core 1.4GHz Qualcomm Snapdragon S2 processor
, which provides the horsepower to deliver a responsive Mango experience. Then again, Windows Phone is generally one of the most fluid and dynamic mobile operating systems out there. Meanwhile, it features other things such as a 5-megapixel auto-focus camera with LED flash, front-facing camera, Bluetooth, Wi-Fi, aGPS, and the Windows Phone Mango experience.
Frankly, it might be small in stature, but don't let its looks fool you because it's definitely game in providing a balanced experience. Of course, we'll be testing it out, but in the meantime, you can check out our unboxing and hands-on video below. Expect our in-depth review soon!