Samsung Epic 4G Touch having problems with reception and more
60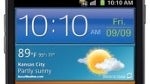 Sure,
the Samsung Epic 4G Touch
is considered by many to be the best Android model ever made. Not only does
the model score mind-blowing numbers on the Quadrant Benchmark test
, but the Sprint version is the only one of the 3 variants sold in the States to come equipped with both a 4.52 inch super AMOLED diaplay and a dual-core 1.2GHz Exynos processor. But that doesn't mean that the phone has been running perfectly.
According to some Samsung Epic 4G Touch users, the phone has been
dropping calls
,
having reception problems
, and some units have been suffering from
slow data speeds
. Both Sprint and Samsung are said to be aware of the problem and are analyzing the situation, according to tweets received by Epic 4G Touch owners from Samsung's Tech Support. One owner of the handset was told that a fix is on the way and should be available in 1 to 2 weeks.
If you are an owner of the Samsung Epic 4G Touch, have you been experiencing these problems too? You can let us know by dropping us a comment in the box below!
source:
AndroidCentralForums