Samsung Cronus in development – new WP8 smartphone
97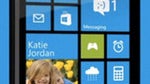 Oops! It looks like Samsung accidentally leaked the name of a smartphone it is currently working on. The handset in question is called the Cronus and it is a Windows Phone 8 model of unknown tier.
How did this happen? Well, someone noticed a reference to the Cronus smartphone in a description of a Windows Phone app called Mobile Care. The app, published by Samsung itself, is used to collect
"the log/minidump files and uploads to Samsung MobileCare server which is normally used in User Trial".
The data collected is used for statistical purposes and product quality improvement.
According to the description, Mobile Care should work on the Cronus smartphone, which is under development. Launched devices, such as the
Samsung ATIV S
and the
Samsung ATIV Odyssey
, can use the application as well once they receive the GDR2 software update.
Interestingly, this isn't the first time we hear about a Samsung handset given the same moniker. Back in May, someone wrote about a
Samsung Chronus on Reddit
, with hints indicating that it could be a smartphone or a notebook computer with an aluminum frame.
Further details about the Samsung Cronus, such as specs and launch date, remain a mystery. Whether Cronus is a codename, or the smartphone's official market name isn't known either.