Samsung ATIV Q launch delayed by patent infringement issues?
30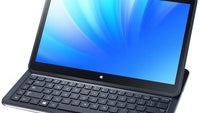 The
Samsung ATIV Q
is an amazing piece of hardware. It is fast, functional, versatile, and we had quite a lot of fun while
giving it the review treatment
. Yet even though it has been two months
since the hybrid was announced
, those who want to buy one are still stuck throwing money at their computer's screen. That's because the Samsung ATIV Q isn't yet available for purchase, and a recent report by Korean media sheds some light on what might be causing the hold-up.
Word has it that the Samsung ATIV Q can't be launched as it infringes on patents related to running two operating systems on the same device. For those who need a refresher, the slate can not only runs both Windows 8 and Android 4.2, but also lets the user switch instantly back and forth between them without the need for a reboot. Reportedly, the issue is so serious that Samsung may end up cancelling the ATIV Q release. That might explain why the Samsung ATIV Q is nowhere to be found on the company's web page for ATIV-branded products.
Of course, the report might be inaccurate, so take what you just read with a pinch of salt. We'll update you as soon as we learn more on the matter.