Samsung ATIV Q tablet is announced with record-high resolution, boots Windows 8 and Android
65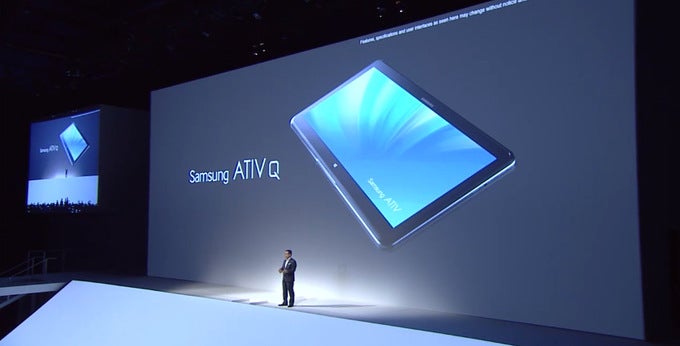 The latest member of Samsung's Windows-powered ATIV lineup of devices is now official. Meet the
Samsung ATIV Q
– a tablet that's made with versatility in mind. And to meet this target, its maker has added a feature we rarely get to see on tablets nowadays. In particular, the ATIV Q can run both Windows 8 and Android 4.2.2 and it runs them at the same time. No need to reboot in order to switch between them! And since this is a Windows 8 device, all your legacy Windows software should run on it just fine.
Furthermore, the Samsung ATIV Q sports a body made of durable magnesium, a unique folding form-factor and it comes with a built-in QWERTY keyboard. It can be used in four different modes, depending on whether you're playing a game, displaying a PowerPoint presentation, or working on a report. Added to the device's set of productivity features is the S Pen digital stylus borrowed straight from the Galaxy Note lineup. At the same time, the ATIV Q is only 13.9-millimeters thin and weighs just 1.29 kilograms, which is impressive for a device that's practically capable of replacing a netbook computer.
Want to hear about its hardware specs? Well, prepare to be impressed. The Samsung ATIV Q has a 13.3-inch display with a mind-blowing resolution of
3200 by 1800 pixels
. That results in a pixel density of 275 ppi, which is really impressive for a tablet of this size. According to Samsung, the display shines brightly enough to be usable outdoors. A Haswell-based Intel Core i5 processor delivers all the processing power, paired with 4GB of DDR3 RAM and Intel HD Graphics 4400, all the while consuming a reasonable amount of energy. Samsung claims that the tablet should be capable of getting up to 9 hours of battery life. Storage-wise, there's up to a 256 GB solid-state drive tucked in there, although the actual amount of space available to the user should be less. Last but not least, there's a 720p front-facing camera outfitted for video chats.
Overall, the Samsung ATIV Q is shaping up like an outstanding tablet that can be both a capable productivity tool and a portable entertainment device. Details, such as pricing and availability, have yet to be announced.
Samsung Strengthens Tablet Business and Demonstrates Commitment to Customer Choice with Innovative New ATIV Tablets
June 20, 2013
New Convertible ATIV Q and ATIV Tab 3, the World's Thinnest Windows Tablet, Offer Ultimate Versatility and Productivity on the Go
LONDON, U.K. - June 20, 2013 -
Samsung Electronics Co., Ltd., a global leader in digital media and convergence technologies, unveiled two new tablets today, giving consumers more ways than ever to create, consume and share content and blurring the industry boundaries. The two new windows 8 tablets, the ATIV Q and ATIV Tab 3, include several innovative new features that set them apart from other mobile tablets, including incredibly versatile form factors and extremely thin and light bodies. Both are powered by Windows8 and bring several unique features to market – including the world's thinnest tablet and a convertible tablet with the ability to run Android apps.
"Busy lives demand convenience, and the convertible nature of these tablets deliver the versatility, mobility and adaptability consumers should expect from personal computing today," said DJ Lee, President and Head of Sales and Marketing Office, IT & Mobile Communications Division, Samsung Electronics. "These tablets are the result of people-centric innovation, and they were designed to provide consumers the flexibility to manage their digital lives on their terms whether they are in the office, at home or on the go."
Samsung launches the ATIV Q – a truly convertible device with the ability to change modes and the power to enjoy both Windows and Android. Born of the tablet family, the ATIV Q allows users more flexibility than ever to adapt the device to fit any situation, posture or environment. Built with today's evolving consumer lifestyles in mind and usable as a notebook or tablet, it delivers on the ATIV promise to make work more seamless and life more convenient.
• Enjoy Android Apps on Windows: Addressing consumers' desire to access Android apps on a Windows-based
PC, the ATIV Q allows users to experience both Windows 8 and Android (Jellybean 4.2.2) on the same device.
Users will not only get access to Android apps via Google Play but also be able to transfer files, ro sharing folders
and files from Windows 8 to Android, truly marrying the mobile and PC experiences.
•
Versatility to Suit Any Environment or Needs:
The ATIV Q sports an innovative hinge design that allows the user
to transform the tablet into 4 functional modes. Lay the display flat over the keyboard for tablet mode. Raise the
display upright to type just like a laptop. Float and adjust the display to a comfortable viewing angle Or flip
the display to place in the stand mode to watch movies with ease. The four-in-one design of the ATIV Q easily
adjusts to give users all the options they need in one device. ATIV Q is also extremely thin and lightweight
for optimum portability. At 1.29kg and only 13.9mm, it's easy to take everywhere you go.
• The Ultimate Viewing Experience: The ATIV Q introduces the world's highest resolution, QHD+
(3200x1800) display. The tablet's 13.3-inch touch screen offers 2.8 times higher pixel density (275ppi) than
full HD displays for viewing the finest of details. ATIV Q is also designed to provide an optimized viewing
experience regardless of location and high brightness in outdoor environment.
ATIV Tab 3
A tablet with the power of a PC, the ATIV Tab 3 makes personal computing more mobile than ever. The tablet is the world's thinnest Windows 8 tablet– as thin as popular smartphones – and shares the premium design of the GALAXY series. It is also ideal for both creativity and productivity with improved S Pen functionality, including high level pen display and S Pen compatibility with MS Office.
• Ultimate Mobility: The ATIV Tab 3 is the perfect device for on-the-go users. The frame is incredibly thin and
light at only 8.2 millimeters thick and 550g in weight, making it a perfect companion device for travel
as well as transporting between work and home. The ATIV Tab 3 also features up to 10 hours of battery life,
eliminating the need to
carry a charger for most long-distance flights.
• Full Windows Experience for Work and Play: The ATIV Tab 3 runs Windows 8 with the ability to
run
Windows app
and programs, as well as coming preloaded with Office Home & Student
for the best experience
whether
at home, at work or on go.
Both the ATIV Q and Tab 3 also enable superior productivity with S-Pen functionality, enabling users to easily make written updates to creative and work.
SideSync is available on the ATIV Q and ATIV Tab 3, enabling users to switch from working on their PC to an Android-based Samsung smartphone with simplicity and ease. With SideSync, the user's PC and mobile device become one. Simply use the PC keyboard to respond to a text on a mobile phone; view maps on a larger screen, display photos and videos on both devices to make editing files even easier; or use an ATIV PC to back up and charge mobile devices. With SideSync, users enjoy more productivity with fewer interruptions to work and everyday life.
Convenience is all about saving time and finding easier ways to get things accomplished, and Samsung ATIV tablets enable users to do just that. By making the personal computing experience more versatile, Samsung continues to make work more seamless and life more convenient.
For more information on the full ATIV PC Family, please visit www.samsung.com.
ATIV Q Product Specifications
Category
Details
Specifications
Display
Size
13.3"
Resolution
3200x1800, 275ppi
Performance
OS
Windows8
Processor
Intel Core i5
Graphics
Intel HD Graphics 4400
Memory
4GB DDR3L
Hard Disk Drive
128GB SSD
Camera
720p HD
Battery Life
Battery Life
Up to

9 hours

Dimensions
Dimensions
327.0x217.8x13.9mm
Weight
1.29kg
Color
Ash Black
I/O Ports
USB Ports
1xUSB3.0, 1xUSB2.0, HDMI, RJ45 (dongle), HP/Mic combo, micro SD