Sale: get a Patriot LX 128GB microSD card for just $30
3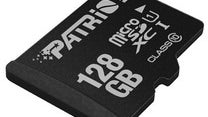 Are you on the look for a juicy new microSD card to beef up the internal memory of your phone or tablet? Or maybe you need more space for your raw images and you're tired of emptying your current microSD card that often? Well, despair not, storage-hungry traveler, for you've stumbled upon a great deal from Patriot.
You can get the Patriot LX Series 128GB Micro SDXC card for just $29.99 right now (down from $67.42). If you have a device that supports high capacity microSD cards (SDXC cards) – and more likely than not
you do
– look no further than this great deal. The Patriot LX has read speeds of up to 70MB/s, write speeds of up to 20MB/s in UHS-I mode, and its 128GB of storage (~117GB formatted) offer a land of abundant possibilities for your digital needs. The card can store approximately 45,550 photos – less if we're talking raw – and up to 1,775 minutes of HD video.
If you're looking to expand the internal memory of one or more of your devices on the cheap, you'd better act now and check out the offer on Amazon (linked below), before supplies are gone. And if this particular card doesn't quite match your performance needs, we already have a list of the
best microSD cards
you can get right now, regardless of the price.
Source:
Amazon
via
Android Authority