STAND-POD is a smartphone stand & tripod that fits in your wallet
7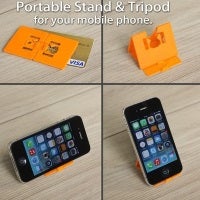 Now, wouldn't it be totally awesome if you could carry a smartphone stand without having to think about anything other than taking it out and using it? The STAND-POD, envisioned by Jean-Pierre Marchant, does the job of both tripod and stand equally well while fitting inside your wallet's credit card compartment. It's a thoughtfully designed piece of folding plastic that can be propped securely in two positions to support your phone in both portrait and landscape orientation.
The contraption has cutouts on the top to let you place the phone as on a tripod and take a self-timed photo. It also features a thread to mount on any standard tripod. STAND-POD is designed for smartphones that are no more than 10mm thick. It has been tested with iPhone models 4 to 6 Plus, the
Samsung Galaxy S3
,
HTC One X
, and other Android phones from the recent past. When finished, the Kickstarter-funded product will be available in six colors, at prices between US $13 (CAD $15) for a single unit up to US $101 (CAD $115) for a 10-pack. Final units should start shipping in March 2015.
We have to say, we appreciate the simplicity and efficiency of the STAND-POD, along with the effort that went into it. Jean-Pierre went through 20 prototypes (third picture below) before settling for the final design. A lot of work was put in refining that unassuming piece of plastic you're seeing, which is downright cool! If you're interested, the project's page is in the source link.