ST-Ericsson new quad-core NovaThor SoC uses 50% less power than the competition
12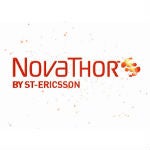 There are a lot of processor options for manufacturers to choose from when building mobile hardware. The competition between Qualcomm, NVIDIA, and Samsung has been so fierce that Texas Instruments actually dropped out of the race. But, ST-Ericsson wants to boost its market share with a new version of its NovaThor SoC, which supposedly uses 50% less power than the competition.
This CES has already had the unveiling of the new
Qualcomm Snapdragon chips
, the
NVIDIA Tegra 4
, and the
Samsung Exynos 5 Octa
, but ST-Ericsson thinks its new NovaThor L8580 can take them all on. The L8580 has four Cortex-A9 cores which can each be clocked up to 2.5GHz, and still only consume as little as 0.6V of power while performing most day-to-day tasks. ST-Ericsson says that thanks to this low-power mode, the chip will use 50% less power than the competition.
The SoC uses the PowerVR SGX544 graphics from Imagination Technologies running at 600 MHz, which can power displays with resolutions up to 1920×1200. And, the other big selling point to the new NovaThor is that it is one of the few SoCs that comes with LTE built-in.
As you would expect from a chip built on Cortex-A9, and the GPU,
this is not an SoC that is intended to compete with the other top-of-the-line offerings
. More likely, it is aiming to capture the market of devices just below the Tegra 4 level, which is still on the higher end, but don't expect this to be in a flagship device from any of the top manufacturers.