SMS of Death could disable the majority of feature phones
7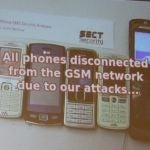 At the Chaos Computer Club Congress, researchers demonstrated how vulnerable our trusty feature phones really are. They found that a malicious text message, called the 'SMS of Death,' could potentially disable all feature phones.
Collin Mulliner and Nico Golde of Berlin's Technical University set up their own GSM network in a lab. That allowed them to further test devices by sending potentially damaging messages. They discovered that popular feature phones from Nokia, Sony Ericsson, LG, Samsung, and Motorola were all vulnerable to a particular kind of text message.
Individual results varied between devices. Some units were disconnected from the network, and then forced to reboot. The message would then continue to be received, and perpetually send a signal to reboot. Other devices were simply shut down, and disconnected from the network.
This might not sound like a major problem, especially considering the
vulnerability
of smartphones. But if someone were to manipulate an SMS marketer's servers, they could offload the malicious text to a great number of customers, or even an entire carrier. Some
police departments
utilize their phones for communication. If a criminal were to send the SMS of Death to those officers, their communications could be severed.
So while most of our readers are
smartphone
owners, we should still be mindful of the potential threats to feature phones. One of the most important steps for OEMs and carriers is to provide OTA updates for feature phones, that might at least limit their vulnerability.
source:
Gizmodo