British police urged to use SMS instead of radios
1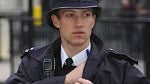 British
police officers are being urged to use
text messaging
, rather than radios, to call in their activities. Under strict budget, they have apparently been accumulating hefty overage charges from their secure communications carrier, Airwave Solutions. Police representatives report that the departments are being charged £2 for every second over their allotted airtime.
Rather than issue verbal updates, officers will now use text messages containing multi-digit codes that communicate their position and activity. The codes will then be automatically logged by the department computer. Some police officers are complaining that they will now be typing in codes, rather than remaining vigilant of their surroundings, and won't be certain that the message was received. When they encounter emergencies, or more urgent matters, officers are still encouraged to use their standard radios.
The contract with Airwave Solutions is one forced on departments by the British
Home Office
. The network was created to provide a secure solution for their communications, but has spiraled out of control. After investing in the already expensive buildout, the network then had to be updated because radios weren't working indoors.
While the police departments paint a picture of an ill-conceived system, Airwave Solutions is saying that the departments aren't effectively using the available functions to maximize their efficiency. Either way, the subsequent costs are astounding with individual departments incurring radio bills of up to £699,000 (US$1,124,341.50) per year. We don't think it's necessarily dangerous to relegate low-priority communication to text messages, but should they really have to?
source:
Daily Mail
via
Textually
Recommended Stories