S60 5th edition announced, with new features
21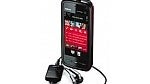 Nokia yesterday launched the 5th edition of the S60 software platform, complete with a full set of new features that the end user is sure to enjoy. The software - announced alongside of the Nokia 5800 XpressMusic - offers tactile feedback via touch, and the option for a widescreen mode to complement it. The internet functionality promises to be a fantastic experience, as the platform will offer browsing with Adobe Flash Lite 3 to give a desktop-esque look. Together with the touch interface, one can scroll through screens and interact directly with website content.
According to Nokia, the sensor framework will be relatively easy for vendors to work with; for example, should a user want to silence a call, they can simply flip the device upside down. Additionally, editing photos will be easy on the new platform, as it will offer the user the ability to "decrease red eye, crop image highlights, adjust image quality or add text and graphics to pictures." Using the video editor, one can add sound to the video, all directly from the device.
As expected, Nokia's Senior Vice President of S60 Software, Lee Williams, expressed excitement in regards to the new version of the S60 software platform. "S60 5th Edition's new features and added functionality significantlyenhances the products that intend to provide rich multimedia andInternet experiences for consumers. Intuitive sensor technologies,interactions via touch, and tactile feedback creates delight andexcitement for consumers and unparalleled innovation opportunities fordevelopers and internet content providers. With this release we will seemanufacturers create and extend their portfolio of products with newtypes of devices addressing a broader range of consumer needs."
With the support for open source technologies through integrated support for Open C++ and the addition of S60 Platform Services, which enables creation of personal and context aware Web widgets, the latest edition gives developers a great deal of support. "The versatile developer support offered by S60 5th Edition enablesdevelopers to write applications in a range of languages that they arealready very familiar with," said Tom Libretto, Vice President, ForumNokia. "That familiarity and being able to arm developers with thetools and technologies that best suit their needs will allow forfurther innovation of new applications and services, not only for S605th Edition, but also for S60 3rd Edition Feature Packs 1 and 2."
For more information, check out the press release below.
Source:
Nokia
Recommended Stories