S Voice knows all about Apple, little about Samsung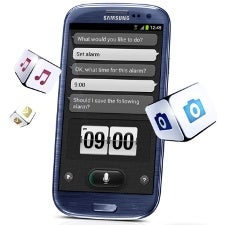 When a company makes a voice assistant app, it'd better make sure it works like the magic mirror on the wall from the tale and doesn't mistake who's the fairest of them all. Apple's reliance on Wolfram Alpha for its searches broke the magic recently by saying that the Nokia Lumia 900 is "the fairest" smartphone of them all to Nokia's pure joy, and now Samsung seems to have allowed a similar blunder.
The Samsung S Voice personal assistant exclusive to the Galaxy S III, is not saying that another phone is the best (yet), but it seems to know a heck lot more about Apple than about Samsung. When one of our readers asked S Voice who's the CEO of Samsung, the SGS III, here's the reply he got:
Well, it's okay not to know something, but weirdly enough, when asked who is the chief executive of Apple, S Voice readily replied:
"Timothy D. Cook."
Interesting, isn't it? We're sure there will be a lot of asking going on when the Galaxy S III finally lands in users hands. What would you want to ask your personal voice assistant (and get an answer)?
Thanks, anonymous!