Rumors: first 2K-resolution phone Vivo Xplay 3S shaping to be an insane hardware beast
15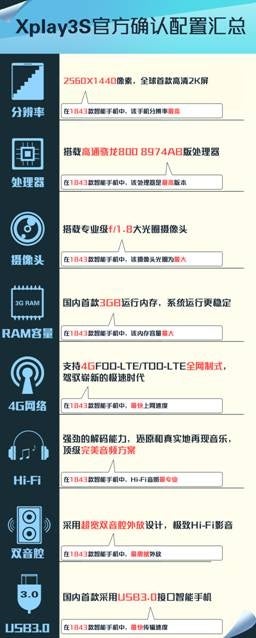 The rumor phase surrounding Chinese Vivo Xplay 3S has been a massive one, so much so that we're starting to question pretty much everything that comes out. In fact, even if all the rumors end up panning out, we'd still think it all sounds too good to be true. Not sure what we mean? Let us update you with the latest speculation surrounding one of China's most renowned premium manufacturers and its latest project...
It all started with the slightly overboard
5.7-inch 1440x2560 QHD screen
. You can check how crazy-dense that is
over here
. Of course, a super bleeding-edge display like that is seemingly not up to the standard by which the next Vivo flagship is to be build, so the company has apparently thrown in
a fingerprint scanner
. You know, to spice things up. Most people would already be sold on the Vivo Xplay 3S, yet there's more. Courtesy of the latest leak from China (and a solid amount of unrelated rumors), the Xplay 3S will, of course, allegedly sport the mighty Snapdragon 800 and 3GB of RAM. Naturally, that's not your everyday Snapdragon 800 – it's the high-powered MSM8974AB variant which features even higher clocks. But wait! There's more – the leak also puts a camera with an f/1.8 aperture on the table, along with 4G connectivity (still rare in China), a Hi-Fi audio chip and USB 3.0 support. Not too shabby, eh?
It goes without saying that none of the above is confirmed, though things like the fingerprint sensor and the super-dense screen did come from the official Vivo Weibo account. As always, take a salty approach, but don't be too hard on yourself – let your inner geek take these in. He's sure to appreciate the sheer amount of crazy in these specs, no?
source:
ET News
via
G4Games
Recommended Stories