Rumored Samsung Galaxy S7, S7 edge prices pop up once again, leave us unsurprised
65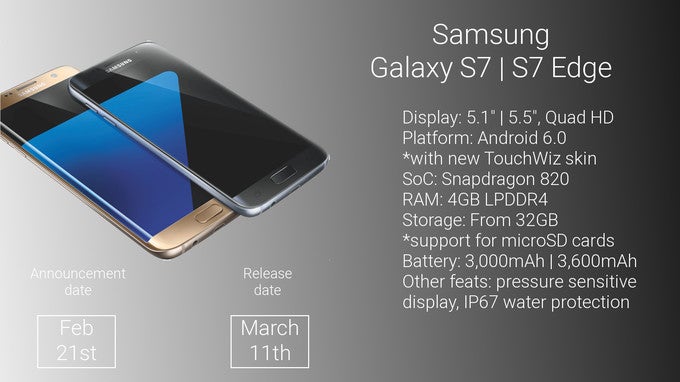 At this point, we seem to know almost everything about the Samsung Galaxy S7 and S7 edge, which are just around the corner and will debut at MWC 2016 on February 21 and arrive on March 11 on the major markets across the world. Indeed, we've been fairly familiar with what hardware will make these two tick and Samsung will hardly surprise us in this department in particular.

What's arguably more interesting at this point is how Samsung will price its 2016 flagship and its larger, "edgier" twin. As these are top-end devices by the world's largest vendor of Android-powered devices, it's certain that their pricing will be flagship-worthy, and indeed, early last month we heard that the basic, 32GB Galaxy S7 might cost roughly $699 at launch, while the 64GB one might command a $799 price tag; meanwhile, the S7 edge might start at $799 and finish at $899 for its 64GB variation.
A recent rumor from the Netherlands that corroborates these speculations has just popped up and further sheds light on the S7/S7 edge pricing. Tweakers.net has it that the 32GB version of the S7 will cost €699.99, while the 32GB variation of the S7 edge will cost 799.99 euros. As we said, that's identical to the prices the S6 and S6 edge carried at launch. We are fairly certain that US customers will see similar digits on the price tags of the two devices, but in dollars, not in euro — $699 and $799 for the basic 32 gig variations of the phones, respectively.
We can now all agree that it will be quite surprising if Samsung doesn't put such price tags on its upcoming phones. Two identical and based on sound logic rumors in less than two months agree on the pricing of the phones, so we feel that these rumored prices will most likely hold water.
Oh, and speaking of water, did you know that the Galaxy S7 and S7 edge will be water-resitant? Well, you would have if you had read our detailed rumor review! Check it down below and right that wrong.