Foldable Samsung smartphone revealed by patents in an advanced development stage
45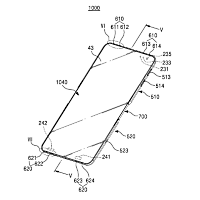 Behind closed doors, Samsung is working on what's going to be a radical smartphone design innovation – foldable designs. We know the company has been trying to put its flexible OLED panels to such use for a long time now, under the "Project Valley" moniker. From time to time, a patent application surfaces, giving us a window into the project's development.
The last one to rear its head is actually very recent, and it also happens to picture the foldable smartphone in quite an advanced development stage. Samsung's design seems extremely intricate, employing not just a flexible display panel, but an elaborate mechanic contraption (gears and all!) to let the user fold the device in half. It's the kind of engineering that only a company with uncountable resources like Samsung and Apple can pull off.
Gears, magnets, and technical wizardry!
Aside from detailing the mechanical hinge, the patent shows a smartphone that looks reasonably complete. It has some familiar things going on about it, such as power and volume keys and a convential camera placement, but it lacks a Home button and it features two magnetic studs so the phone can stay securely folded.
Although there is no rumors release date floating in the wild, it's possible that Samsung will release the foldable smartphone sometime later this year. Although no one is giving any guarantees that these patented designs will ultimately appear on the market, the company's work on Project Valley seems to be far along and entertains the thought of a near-future release.
source:
Original patent
via
GalaxyClub.nl