Rubik's Cube turns 40 – play it on your smartphone or tablet
5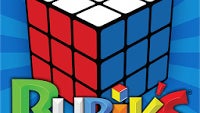 Back in 1974, Hungarian sculptor and professor of architecture Erno Rubik came up with a three-dimensional combination puzzle game – a Magic Cube, as it was initially named. Today, exactly 40 years later, his invention is considered by many to be the best-seling toy that has ever existed. We're talking about the Rubik's Cube, of course, 350 million units of which have been sold. Generations have attempted to solve the cube's puzzle – some with thought and perseverance, others by taking apart and reassembling the darn thing.
However, you don't necessarily need a Rubik's Cube to enjoy the challenge of solving one. Not if you have a smartphone or tablet at your disposal, that is. Cube apps are available for all popular mobile platforms, and today we picked the ones you should give a try.
The official Rubik's Cube app is the one we'd recommend to iPhone users. It includes a classic 3x3x3 cube, as well as several extra-challenging variations with up to 5 by 5 tiles per side. The cube itself can be spun around using either the touchscreen controls, or the handset's motion sensors. And if you have a pair of 3D anaglyph glasses, you can turn the app's 3D mode on and experience the cube in three dimensions. Plus, the app features a solution guide for those having troubles with their cubes.
The Windows Phone variant of the app, brought to us by the same team of developers, lacks some of the aforementioned features, such as the 3D mode and the motion controls, But it is still good enough to keep one's brain challenged as it features cube sizes of 2x2x2 to 5x5x5. You can play the smallest cube for free before purchasing the game's full version.
| | |
| --- | --- |
| Developer: Magmic Inc. | Download: iOS, Windows Phone |
| Genre: Puzzle | Price: $0.99 for iOS with in-app purchases, $2.99 for Windows Phone |
Now, there's an official Rubik's Cube game for Android and it costs a buck at the Play Store. It appears to be suffering from compatibility issues, judging by all its negative reviews. That's why you'll probably be better off downloading 3D Rubik Cube instead, which is free and ad-supported. The app features the classic cube, as well as several harder ones, the biggest one of them being 8 by 8 by 8 tiles. Just hit that download link and enjoy!
| | |
| --- | --- |
| Developer: EZ.GAME | Download: Android |
| Genre: Puzzle | Price: Free, ad supported |