Rooted BlackBerry PlayBook captured on video
2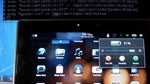 A few days ago, three developers proclaimed that they were able to
root a BlackBerry PlayBook
. Now, one of the developers, Neuralic, has uploaded the proof to YouTube. In the video below you can see Neuralic demoing root access on a BlackBerry PlayBook running software version 1.0.8.4985.
He demos a few of the pps/services commands to ensure that he is, in fact, logged into the PlayBook using root access. He changes the brightness and enables various LEDs via a Windows PC. Neuralic says that this root also works on the 2.0 beta. He claims that
Android Market can be run on the 2.0 beta
and APK files can be directly installed rather than having to convert them into BAR files.
One of the other developers, Chris Wade, also released a video on YouTube. In his demo he shows off a PlayBook running 1.0.8.4985 that is
able to play videos on Hulu
flawlessly after being rooted.
The trio believes that they can get a full version of Android running on a PlayBook, but admits that it is a ton of work. They are gladly accepting volunteers that want to help them further this project. If a $200 PlayBook with the ability to run Android becomes a reality,
Best Buy will really have trouble keeping them in stock
.
source:
CrackBerry