Rockstar looking to find a buyer for some of its patents
14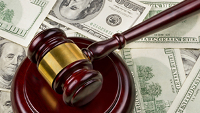 On Tuesday, we told you about
Google's lawsuit that it filed against the consortium known as Rockstar
. This is a group that consists of companies like Apple, Microsoft and BlackBerry
that had together ponied up $4.5 billion to purchase the intellectual portfolio belonging to failed Canadian tech firm Nortel
. Now that it owns the patents, Rockstar's business is to protect these patents using the judicial system, or by licensing them.
While Google is seeking a court order preventing Rockstar from taking legal action against it, its Android partners and Nexus devices, the members of Rockstar are seeking a partial sale of their holdings. So far, Rockstar has been unable to license the patents to bring in income, so it is time to revert to Plan B, which means selling some of the patents. A couple of options would include selling off any patents not involved in litigation. Because the companies behind Rockstar don't want to take a loss, the deal could be structured to allow a buyer to pay a decent price, but promise a percentage of any licensing profits to Rockstar. Another possibility is that another deep pocketed company could join the group which would dilute current owner's stake in the consortium, without any of the patents changing hands.
Google was one of the bidders for the patents the first time around, and buying them could save it and its Android partners a ton of money and a giant headache. Rockstar did manage to sell off some of its holdings in July to fellow patent troll Spherix. The price was undisclosed, but included $1 million of Spherix stock and some profit participation in the patents for Rockstar.
In October, Rockstar filed a suit against Google, Huawei, Asus, ZTE Corp., HTC Corp., Samsung Electronics Co., LG, and Pantech Co., claiming patent infringement. The patents that Rockstar is trying to sell do not include the ones involved in this suit.
source:
Bloomberg