Ritot is the latest wearable to take crowdfunding by storm
10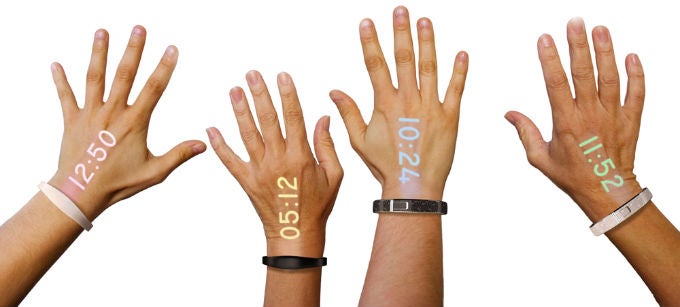 If anyone out there has doubts about how excited people are for the coming wearable revolution, just take a look at Kickstarter, because there have been quite a few wearables to make a lot of money on Kickstarter, not the least of which has been the Pebble smartwatch. The latest wearable to make a splash with crowdfunding (this time on Indiegogo) is the Ritot wristband.
The interesting thing about the Ritot is that it doesn't have any kind of display to show you the time or notifications. Instead, the Ritot projects your notifications directly onto the back of your hand. When you shake your wrist, it will display the time, and when hooked up to your smartphone, it can also display call info, text messages, reminders, Twitter alerts and more. Each notification will show for 10 seconds, and you can change the projection between 20 different colors.
Ritot will come in two designs: a simple bracelet, and a sport model. It will be waterproof, and use premium materials (aluminum and leather) in the build. Of course, the big news is the battery life that the wearable claims. Standby mode is said to be 1 month, and 150 hours when in active use. The Ritot uses wireless charging, and the charging base can be used to change the projection color, and some other settings.
As of this writing, Ritot had already blown past its goal of $50,000 and was almost at $160,000. With 38 days to go, it's all about what stretch goals will be added with the extra funding.