Reversible Lightning to USB cable stars in video
10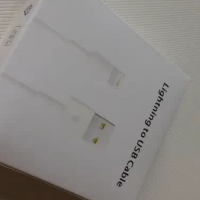 If you own an iDevice, we have a quick ten second video that will make you happy. Following up on Sunday's tweet by Sonny Dickson, relating to
a Lightning to USB cable that is reversible on both ends
, we now have a video showing the cable in action. Shot by the Australian teen, the clip first shows a rather plain looking box that reads "Lightning to USB cable."
The video then shows us the USB end of the cable getting reversed and still fitting perfectly into a USB port. As we told you last December,
the next standard for the USB connector, USB C, is reversible
. Apple's new Lightning cable will apparently beat the USB C connector to market.
So what are the advantages here? Well, it should bring down the frustration level globally, as millions find it easier to connect their iOS devices to USB ports. In addition, the cumulative amount of time saved not having to flip the connector on the cable over, could add up to being a huge number. Think about how many times you've had to flip over your connector, especially in the dark, to make it connect correctly with a port.
source:
@SonnyDickson
via
SlashGear