Next USB connector will be reversible and thinner
30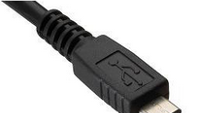 Ever struggle trying to recharge your phone in the dark? Usually the main problem is that your USB cable plug is reversed so that it won't fit into the port. It's the old kindergarten problem of trying to pound a square peg into a round hole. But that is about to change. Soon, your USB cable will be reversible and might even be a bit thinner. That should eliminate some late-night aggravation and make some smartphone owners a lot happier.
On Tuesday, the USB Implementers Forum and the USB 3.0 Promoters Group announced that they are hard at work, designing the USB Type-C connector that will be built using existing USB 3.1 and USB 2.0 technologies. The connector will feature a new design that will work with new products and will be similar in size to the current USB 2.0 Micro-B plug. Being reversible, users won't have to worry about how they are holding the connector to use it correctly. The Type-C connector will also support scalable power charging and increasing speeds and bus performance. That means it could be the last new USB plug design for some time.
So what will happen to your current devices? After all, the Type-C plug will not work with existing receptacles. Well, the good news there is that the new connector will work with adapters to allow you to continue to use your favorite products. Specifications are expected to be reviewed in the first quarter of next year with final specs published in the middle of 2014. For those who fumble with their USB plug in the middle of the night, the new design can't get here fast enough.
"The new Type-C connector furthers USB's lead in addressing customer desire for more flexibility and higher performance, This allows USB to increase performance and continue to deliver ease of use to several evolving product categories for years to come"
-Roland Sperlich, Product Line Manager, TI Consumer and Computing Interface
source:
USB-IF
via
PhoneScoop